Easy and inexpensive Valentine Rice Krispie treats idea for the classroom, a party or just to make for fun for this holiday. Lollipop treats for valentines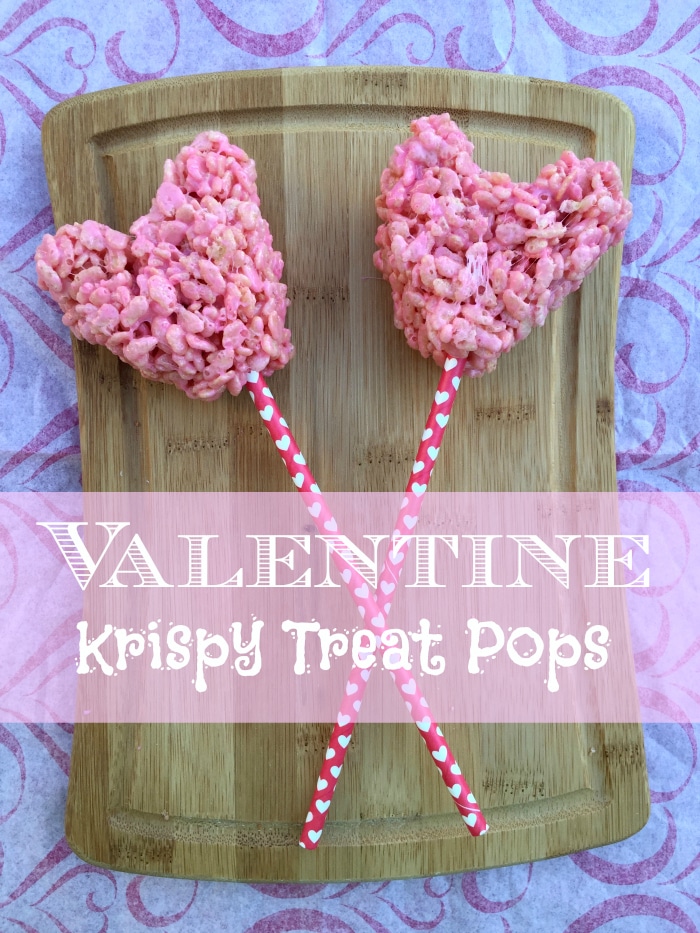 We love making fun things at Valentine's Day, and making things we can give out to friends and teachers too! This year we thought of a fun way to make our favorite treat. Valentine rice krispie treats are so easy to do. Let us share them with you.
You start out making rice krispie treats as ususal:
Melt 3 tbsp. butter in a pan, then add 4 cups of mini marshmallows
Stir the whole time melting it well.
Have 5 1/2 cups of rice krispies cereal waiting for you in a bowl nearby so when the marshmallow is melted you can pour that right in.
While you are waiting for the marshmallows to melt just add a few drops of red or pink food coloring
The one thing I would suggest before you start this is to spray a non stick spray in the pan, the bowl, and on the spoon you will use. This makes clean up easier.
I like using the smaller marshmallows too because they melt more evenly, just a Mom suggestion. 😉
Combine the melted marshmallow into the bowl of Rice Krispies and stir until all the cereal is coated. Immediately pour that on to a cookie sheet and pat down with some parchment paper so it is the same thickness all the way across.
Sometimes I use a cookie cutter to make hearts but this time I had my daughter helping me so we washed our hands and used our hands to mold out some hearts.
After this just stick the straw in the bottom and set down to harden up. I found these straws at the entrance of Target in their $1 section but could find them at a craft store too.
We ate a few and then wrapped a few up to share with friends. For the plastic cover over them I just cut the top off the ziploc baggie and put over with a ribbon on the bottom….no need to buy expensive plastic wrappers. 😉
I have other ideas for Valentine treats here that are candy free and creative as well, enjoy!