Have you visited Noodles and Company recently? They have a few new dishes with Zoodles which I love & there's a quick pick up option now too!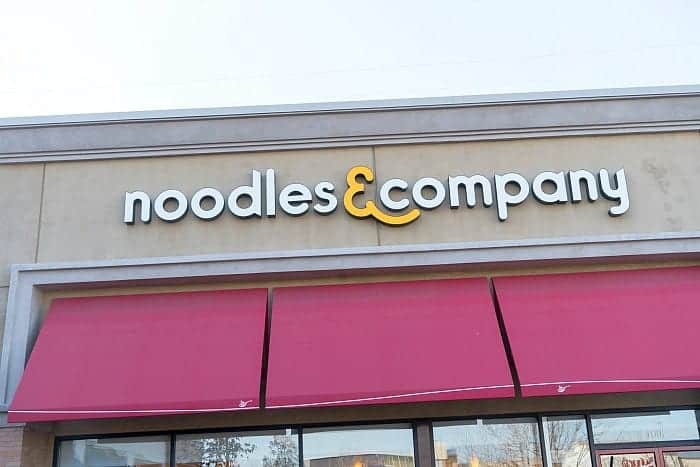 We just moved to Boise so we've been all about checking out the restaurants in the area, this afternoon we were able to sneak away together for lunch and landed at Noodles and Company! It was our second visit there, the first was on our first visit to this city never knowing we would decide to move here.
I remembered having the most incredible cheesy pasta there, but this time we were curious to try their new dishes that are only available for a limited time.
I snagged their Zucchini Truffle Mac because anything with the word truffle in it is top on my list, and I LOVE the fact that they use zucchini noodles instead of pasta!
My husband chose the Zucchini Spicy Peanut Sauté with Grilled Chicken because anything with a peanut sauce is his fave, both were fantastic and we'll definitely be visiting again. 😉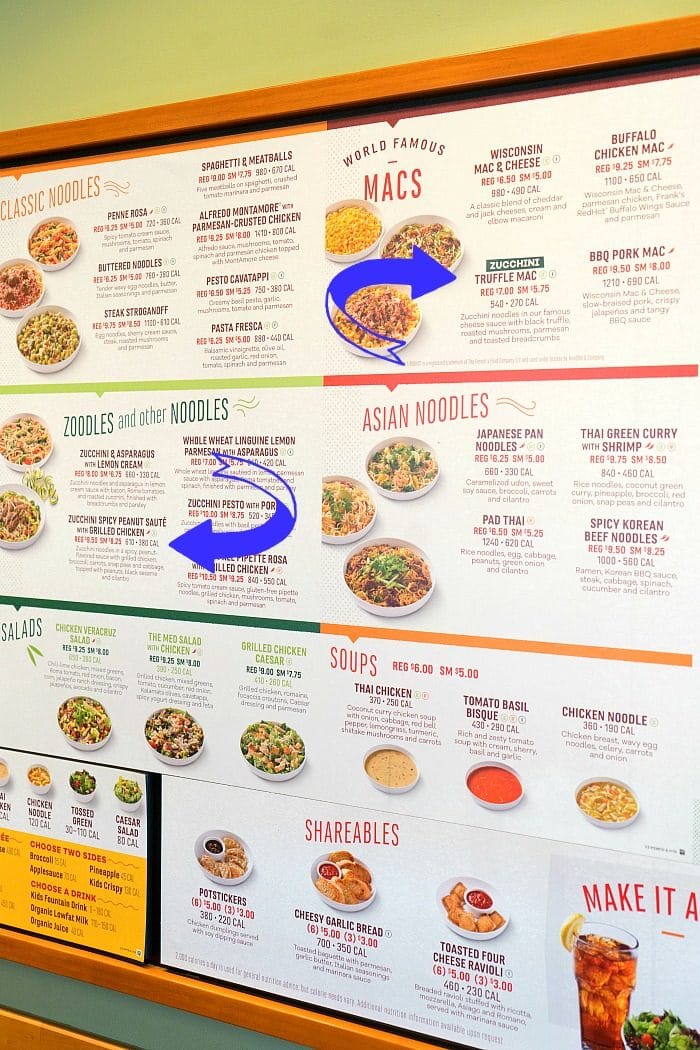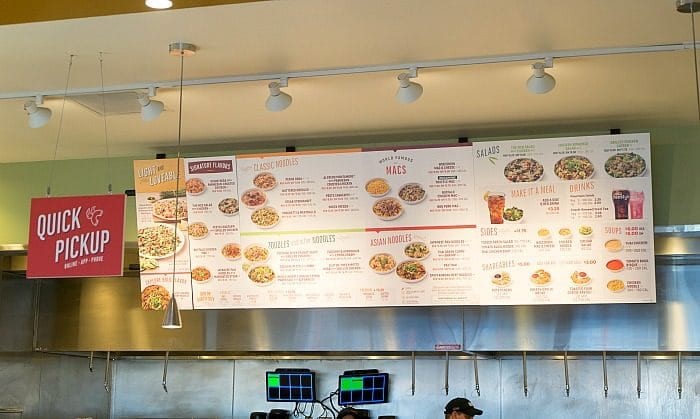 So, my husband and I are lucky enough to work from home. That doesn't mean we have a ton of time to go out and eat together, but we have a bit more flexibility than others in an office I suppose. That being said I did notice a benefit to those on a time constraint whether it be for lunchtime, or if you have a busy evening. It's called Quick Pick-up…as you see here.
Whether you don't feel like leaving the house some night or you need to make a quick pick-up between sports practices, Noodles and Company now has a way to enjoy any of their meals at home or on the go!
Here's how Quick Pick-Up works:
Order online – you can even do this right on your phone!
OR download their NoodlesREWARDS App for free and order online that way!
Then pick up your order FAST

At Quick Pick-Up spots

– like you see here with the red sign inside Noodles and Company restaurants

Curbside Pick-Up

– They will soon begin testing separate parking spots by the entrances reserved just for Curbside Pick-Up orders so you can stay warm and dry (perfect when it's snowing here)

Quick Pick-Up Windows

– Currently these are being tested at selected locations where there is a window alongside the restaurant where you can stay warm and dry while they bring out your order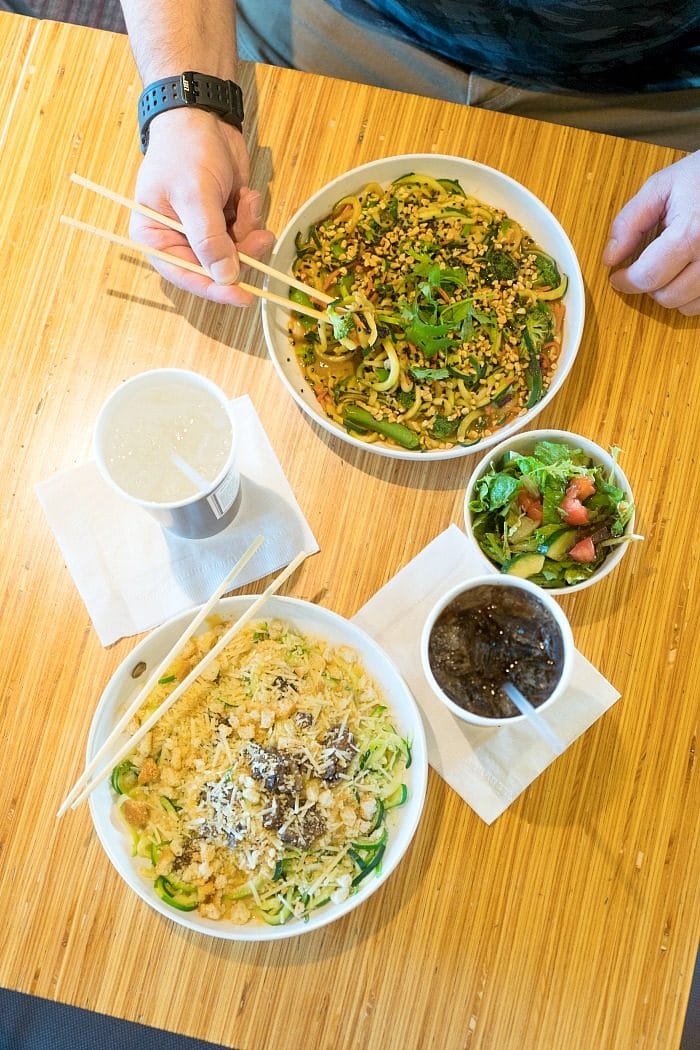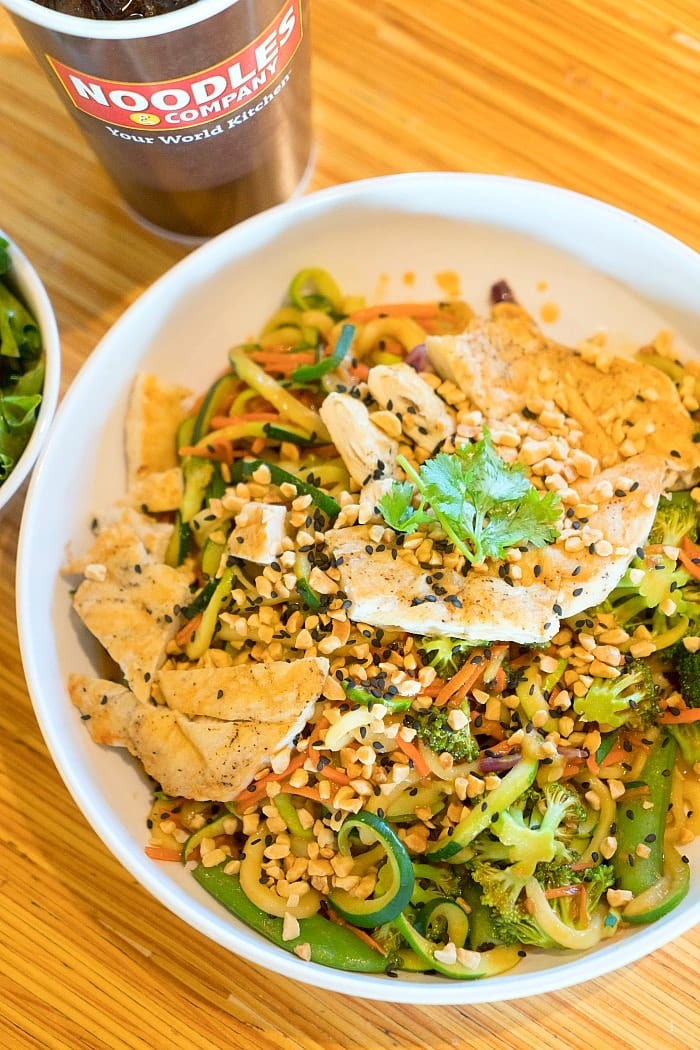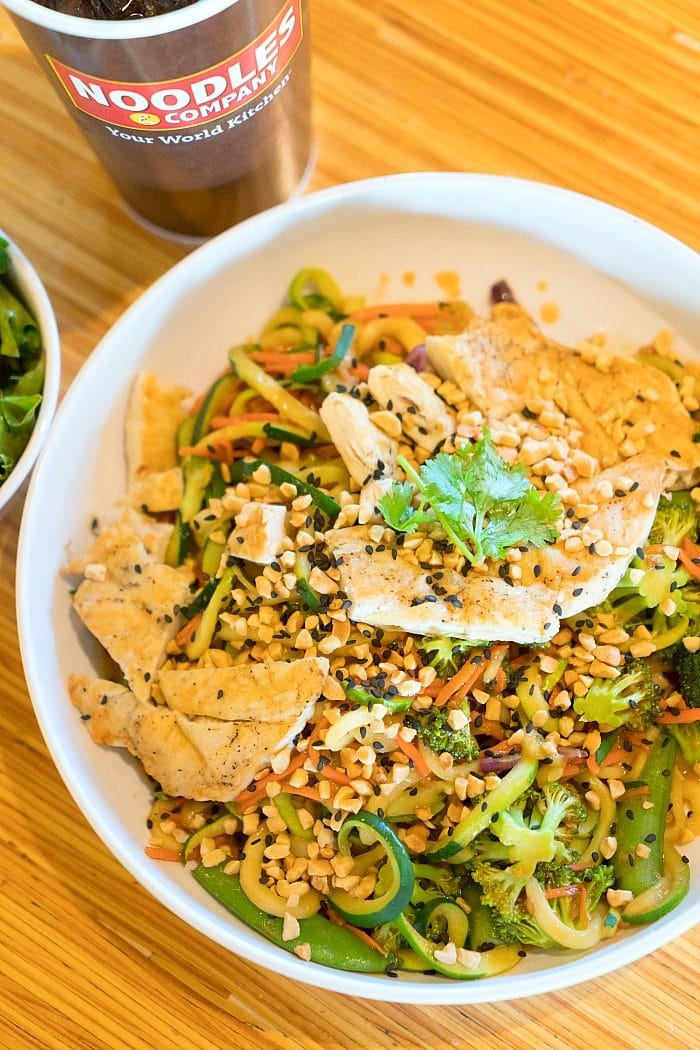 Here's his Zucchini Spicy Peanut Sauté with Grilled Chicken order smothered in sauce and loaded with veggies. I had a bite too but seriously couldn't keep my chop sticks out of my Zucchini Truffle Mac. If you love anything mac and cheesy this is a total win!
AND if you've never tried Zoodles instead of pasta noodles you have got to try it next time you go in..you seriously don't miss out on anything, rather it offers a nice added texture and the more vegetables the better, I always say.
Now on to the Zucchini Truffle Mac……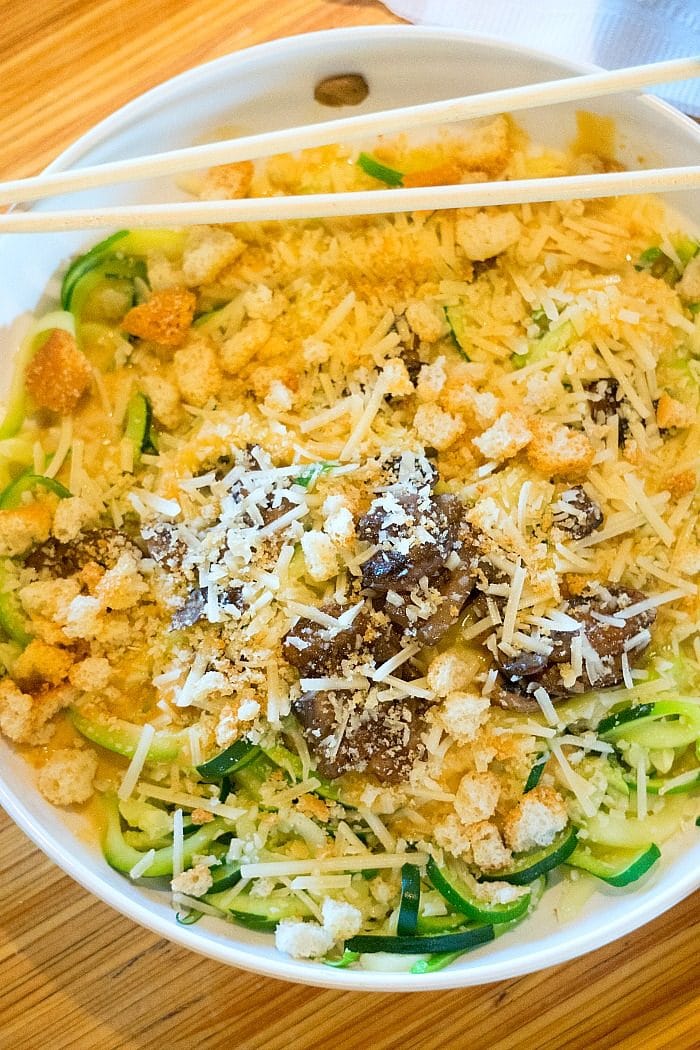 I would seriously order anything with the word truffle in it, and the creamy sauce over Zoodles was a great lunch.
Like I said….both these dishes are only available for a limited time so on your next lunch date, or busy evening when you need to pick up dinner quickly, give them a whirl…..so good I tell you.