Yes, Christmas is over and it is time to think about the new year and what we'd like to accomplish. This is a fun tradition to do after you take all the decorations off, but right before you put your tree away, and before New Year's Eve arrives (it's fun to do it as an activity on New Year's Eve or Day).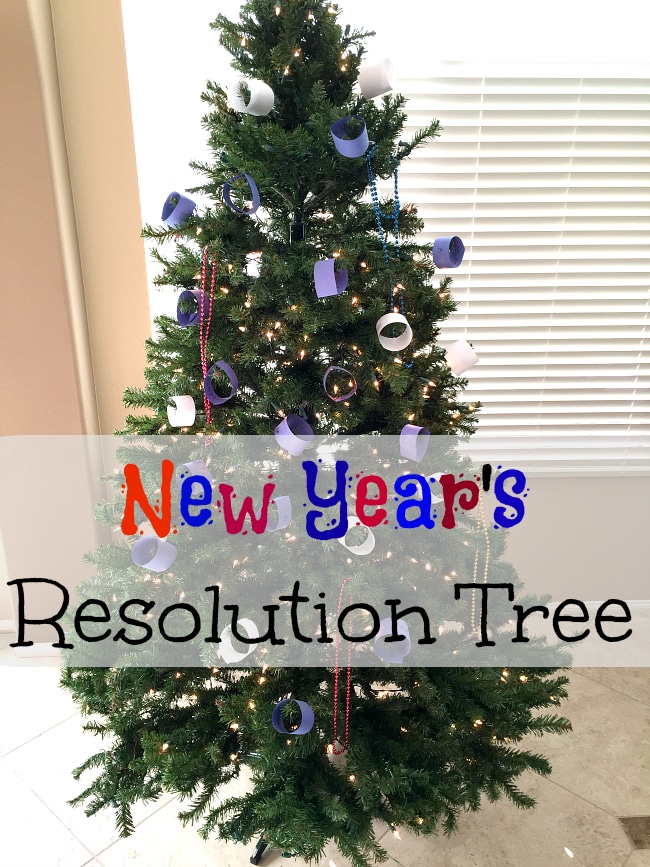 It is a bit sad putting the tree away, or throwing it away if you buy a real one, so mind as well get just one more fun use out of it before it's gone for yet another year right??!! Make a New Year's resolution tree with your spouse or with your kids….they will love this too!
First just cut out some strips of paper and have each person write their hopes and resolutions down on them. Write your name on the other side so you know later who made that resolution….we will use this next year, just wait 'til the end.
Roll it into a circle and tape one end so you can hang them on the tree like ornaments! We decorated the tree with beads we had too, but if you get the poppers and/or hats, glasses, horns you could throw them on the New Year's resolution tree as well for fun!
When you are ready to put your tree away just fold your resolutions in half and store them in a jar marked with the year on it. Find a safe place for them….the best place is the box with your ornaments in them so you won't loose it. You will probably forget about this 'til you open the box next year and you will smile remembering, pulling out each of them, and seeing whether or not your resolutions came true. 😉
Hope you have fun with this activity. For more fun family tips, tricks, and budget friendly posts please follow me on social media and on Pinterest for more fun!