Mozzarella stuffed bacon wrapped onions are an amazing side dish or main course! Baked or grilled they are sweet and savory with lots of cheese oozing out.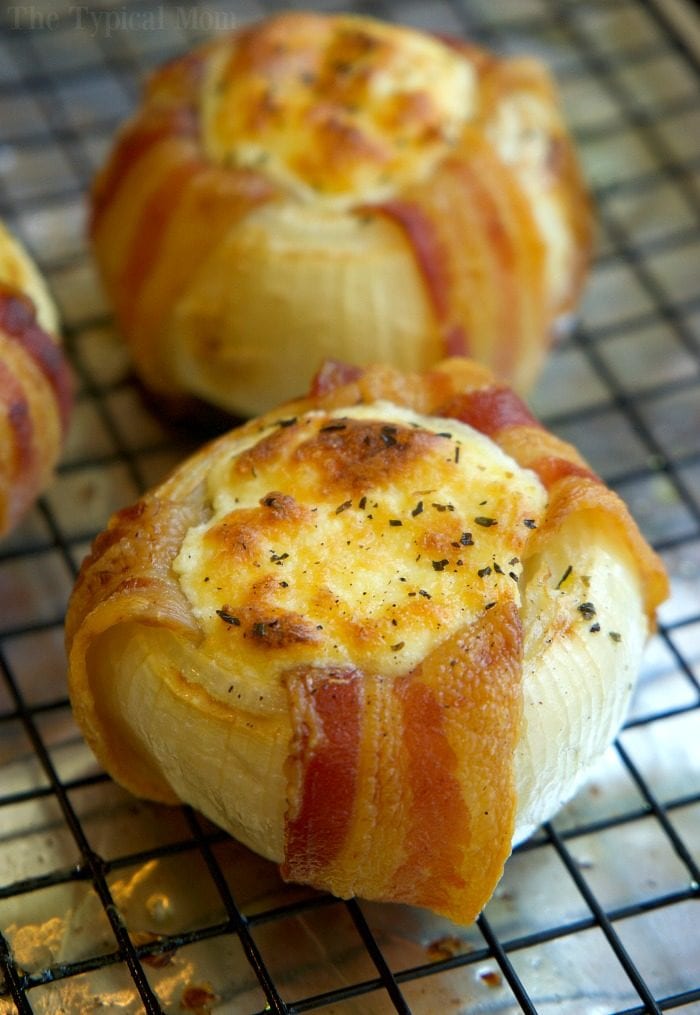 I know…amazing right?? I used Vidalia onions who generously sponsored this post to make these mozzarella stuffed bacon wrapped onions in the oven, but you could easily throw them on the barbecue too! If you've never tried Vidalia Onions they are sweet, tender, available on April 12th in stores, and grown in Georgia (love that state).  Loved and used often by some of the world's best chefs and home cooks for their sweet, distinctive flavor….I love them too for their texture and flavor.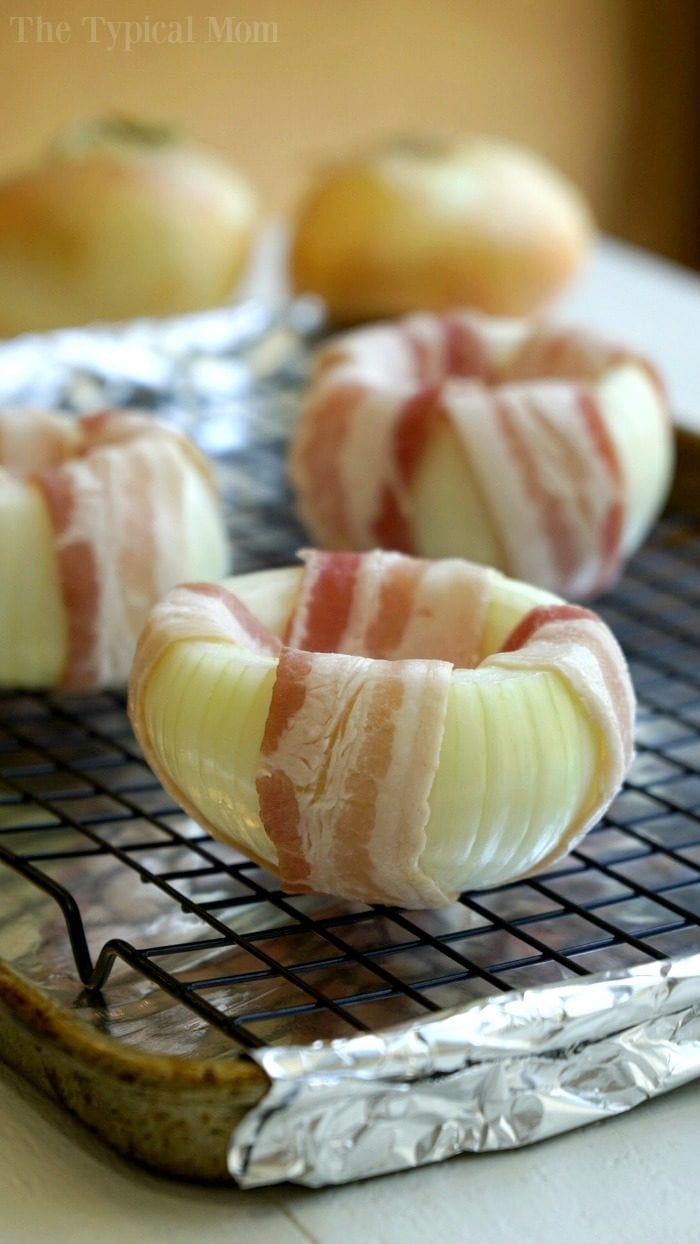 Stuffing onions is really quite easy. They provide the perfect "bowl" to fill with your favorite things, ours being bacon and cheese (I'm sure yours too). Baked is wonderful however during the Summertime you can use this recipe, but instead of using a cookie sheet you can wrap each one in aluminum foil and put them on your barbecue! Take them camping too and throw them on the campfire for an amazing meal or side dish. They are very versatile, and could even be stuffed with a meatloaf mixture instead of cheese. 😉 Vidalia onions are a seasonal treat only available in the Spring and Summer months, so right now is the best time to pick up a few and give these mozzarella stuffed bacon wrapped onions a try.
The first time I made them I had one myself for lunch. I couldn't wait to share what I had made with my husband but surprisingly enough when my kids came home they asked what they were smelling, and had to taste them too. I wasn't sure what they would think but they finished them all off….and Daddy didn't get one after all. lol
This is really all you need:
Bacon
Olive Oil
Cream Cheese
Mozzarella Cheese
Oregano / Salt
Mozzarella Stuffed Bacon Wrapped Onions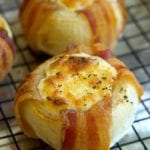 Mozzarella Stuffed Bacon Wrapped Onions
Mozzarella stuffed bacon wrapped onions are an amazing side dish or main course! Baked or grilled they are sweet and savory with lots of cheese oozing out.
Course:
Dinner, Entree, Side Dish
Ingredients
4

Vidalia Onions

(for 3 servings, double if you want more)

8

pcs

bacon

(2 per onion)

1/2

c

softened cream cheese

1

c

shredded mozzarella cheese

1/4

c

olive oil

1

tsp

oregano

1/2

tsp

salt

1/2

tsp

pepper
Instructions
Cut about 1/4 of the top of your onion off.

Slightly cut the other end just to remove the onion skin, making sure it sits flat and you don't cut a hole in the bottom.

Remove just the first outside layer of your Vidalia onions.

Use a knife to cut the middle out of your onions, then use a spoon to core out a bit more, enough for some cheese and a bit of bacon to fit inside.

Lay 2 pcs. of bacon down in an X form.

Put the onion in the middle of the X and pull the ends up and into the hole at the top of your onion. Push it down inside so it is tight.

Once all of your onions are prepared this way put them on a cookie sheet with aluminum foil on it, with a cooling rack on top of that so any liquid can drip away from the onions (there won't be that much).

Put in oven set to 350 degrees, on a rack that has been moved to the bottom of the oven (or close to it).

Mix together your 2 cheeses.

After 30 minutes take your onions out and make a ball out of your cheese mixture, enough to fit into the holes.

Sprinkle with a bit of oregano, salt, and pepper and drizzle with olive oil making sure oil gets on the outside of onion.

Put cheese stuffed onions back into the oven for 20-25 more minutes or until the top of the cheese is lightly brown and bacon is crisp.
Nutrition Facts
Mozzarella Stuffed Bacon Wrapped Onions
Amount Per Serving
Calories 415
Calories from Fat 270
% Daily Value*
Total Fat 30g 46%
Cholesterol 54mg 18%
Sodium 597mg 25%
Potassium 454mg 13%
Total Carbohydrates 27g 9%
Protein 10g 20%
* Percent Daily Values are based on a 2000 calorie diet.
What are you waiting for??!!
Whether you're looking for an amazing side dish or a main course that is different and everyone will ask the recipe for, these are it!  Vidalia Onions are incredibly versatile and add flavor to a wide variety of  dishes from salads to side items, dressings, dips and even desserts. Start with this recipe and see why they're a great onion to cook with and then go from there. Just incredible I tell you. 😉 If you love these, try our meatloaf stuffed onions too.