RoadPoints lets you monitor your teen's driving with your smart phone and is a free APP too. Reward your teen with good driving performance and track them.
Wouldn't you love to monitor your teen's driving with your smart phone and know just how fast they are going, or know where they've been…..well now you can with RoadPoints. This new development, and free APP, is available for your smart phone in order to track their good (or bad) driving performance and rewards them when they're following the rules. Love that! Special thanks goes out to RoadPoints for sponsoring this post.
Here is how it works. You can find RoadPoints in the APP store and download it for free. Setting up an account is free, and tracking whether they are going over the speed limit is a free service too. Sounds interesting right??!!
You first set up a RoadPoints profile with your teen's name and it is paired with a cute/cool character like you see here for Michael James.
Once you turn the location services to ON on your teen's smart phone it does the rest for you and calculates a lot of information that you can later retrieve.
You can see a little bit here when I set up a profile for myself and drove with it for a while to see just how well it worked.
I had an average of 3 miles over the speed limit (I know, I'm a wild woman). I didn't have any short stops or starts, and my top speed was just 67. A lot of information from a free APP, and useful to parents too!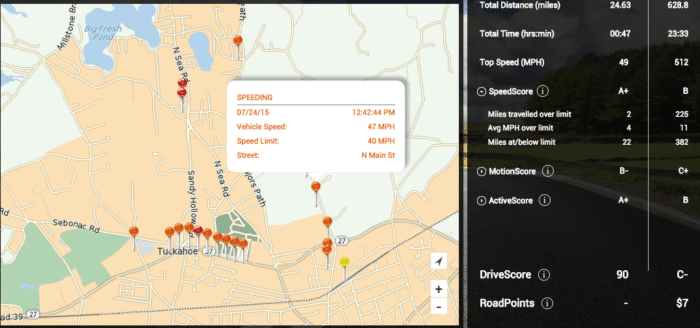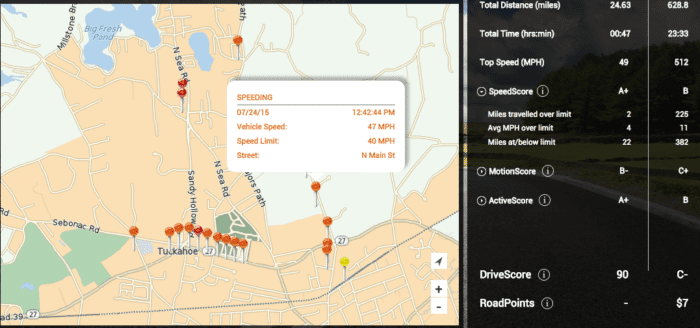 Here is more information it provides if you sign up for a subscription to RoadPoints, a nominal fee. As a special they are offering this subscription based service for 50% off the first 3 months with the coupon code JUSTINE.
You can try RoadPoints for free first, then decide whether you'd like to continue after that. The way teens can earn $ for their good driving is to get "sponsored".
What that means is that you as a parent can put money into the system. When they earn enough good driving points. Then they can redeem some of the $ in that account and get paid for their good driving skills.
All teens would love that incentive!! I've always been an advocate for positive rewards. This one seems like a great one for teens and their parents.