These easy mermaid meringue bites are the best! So easy to make and the perfect bite size dessert for birthday parties or a baby shower.
If you've never made homemade meringue before it is easier than you think! Once you have the hang of it you can make these fun mermaid meringue bites any color and/or flavor you want. These are kind of a unicorn poop, mermaid, or rainbow color scheme but would be perfect for a gender neutral baby shower too since it combines both pink and blue. If you're throwing a mermaid birthday party these are perfect, if your theme is purple then make them purple with maybe a grape flavor to them. The possibilities are endless and they're a really light and sweet dessert you can pop right into your mouth.
Rainbow Meringue
What's Needed
2 Egg Whites
I cup Powdered Sugar
1/8 tsp. cotton candy extract (or flavoring of your choice)
Food Coloring—blue, pink, purple
Similar to our chocolate meringue cookies but without the cocoa. NO cream of tartar used either which is something you likely don't have at home.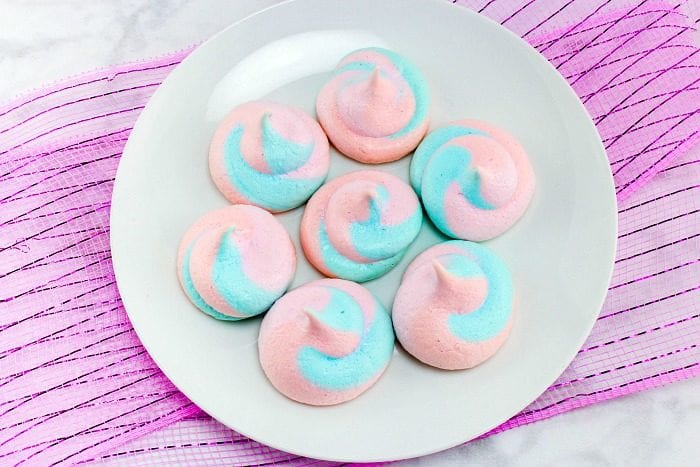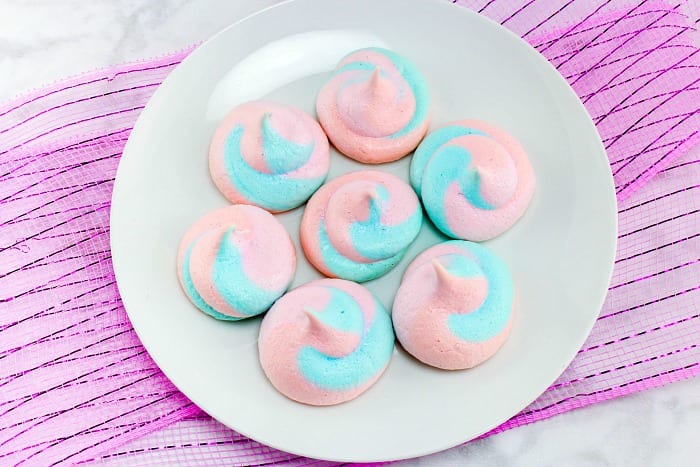 Directions
Preheat oven to 175 degrees.
Beat egg whites on high until stiff peaks form. (about 2 minutes)
Add ½ cup of powdered sugar and beat until glossy and stiff. (about 5 minutes)
Gently fold in the remaining powdered sugar and the extract until well combined.
Separate meringue into 3 separate bowls, add a few drops of food coloring to each bowl and gently fold.
Fill 3 icing bags with each color and attach the 3-color coupler.
Pipe the meringue into small little "piles" on a parchment lined cookie sheet.
Bake for 1-1 ½ hours, or until dry to the touch.
Let cool and enjoy these cute little treats!
Meringue Cookies
Looking for more easy dessert ideas?
If you're throwing a baby shower here are a bunch of inexpensive diy baby shower decor ideas to use too.
For more easy recipes, tips and free printables please LIKE The Typical Mom on Facebook and follow me on Pinterest! You can also sign up for my free weekly newsletter which is packed with goodies I know you'll love. 😉