This is how to make brownies out of cake mix easily with just 2 ingredients and any flavor of cake mix you like! Rich and chewy strawberry brownies are our favorite but try devil's food cake mix brownies too. A quick dessert your kids will love and cheap to make for a bunch of people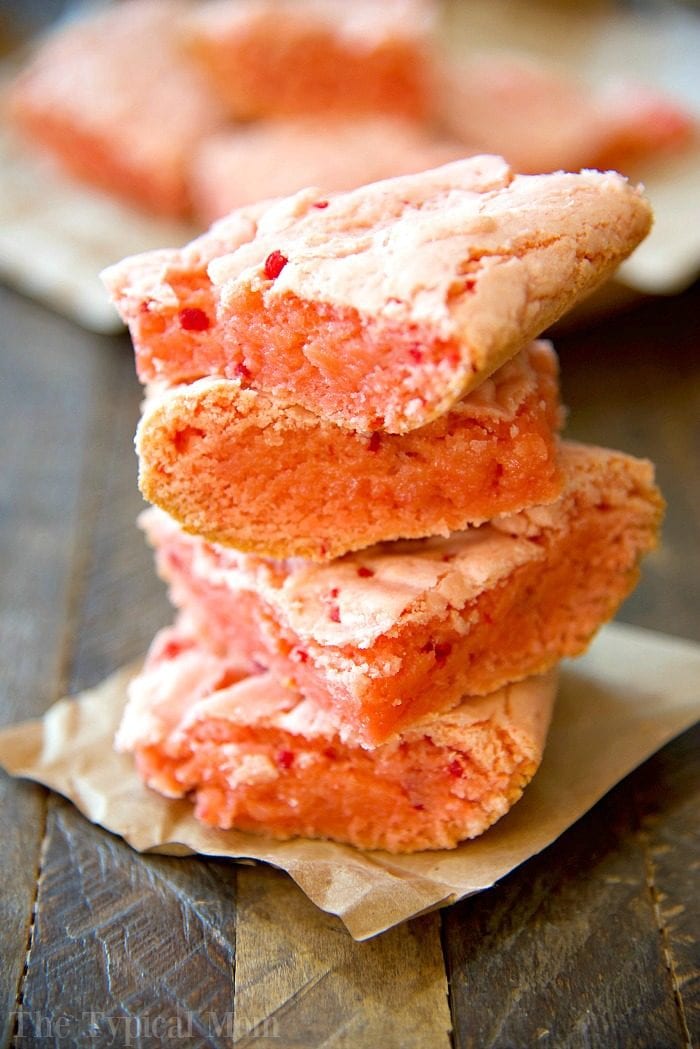 Knowing how to make brownies out of cake mix comes in handy. We're suckers for brownies. We've made peanut butter brownie in a mug, boxed brownies, homemade brownies, and now these. If you've never made anything other than a cake right out of the box there is actually a lot you can do with cake mix. We've made donuts too which I will share below, and there's an easy way to make just a portion of the box so you don't have to make all 24 cupcakes (which we do all the time). Varying the ingredients is the only difference between a sheet cake, a few cupcakes, donuts, or making these brownies with cake mix here. It's texture really. You want brownies to be dense, chewy, and thicker than a cake. We made strawberry brownies this time but it really works for any flavor cake mix you choose. Here's the recipe. (originally published 3/17)
You only need 3 ingredients to transform any cake mix into brownies and I am sure you have them all at home. From there you can add things like nuts, frosting on the top when they're cooled, or even chocolate chips if you want to load them up.
A box won't make a 9×12″ pan full like it will if you make a cake as directed. Rather it will fill a square 8×8 pan or so and come out the thickness you see here.
They are quite rich and sweet so half of one of these pieces is quite enough to satisfy my sweet tooth, but it's an easy brownie recipe if you don't have the time to make any from scratch or a box of ready made in your house.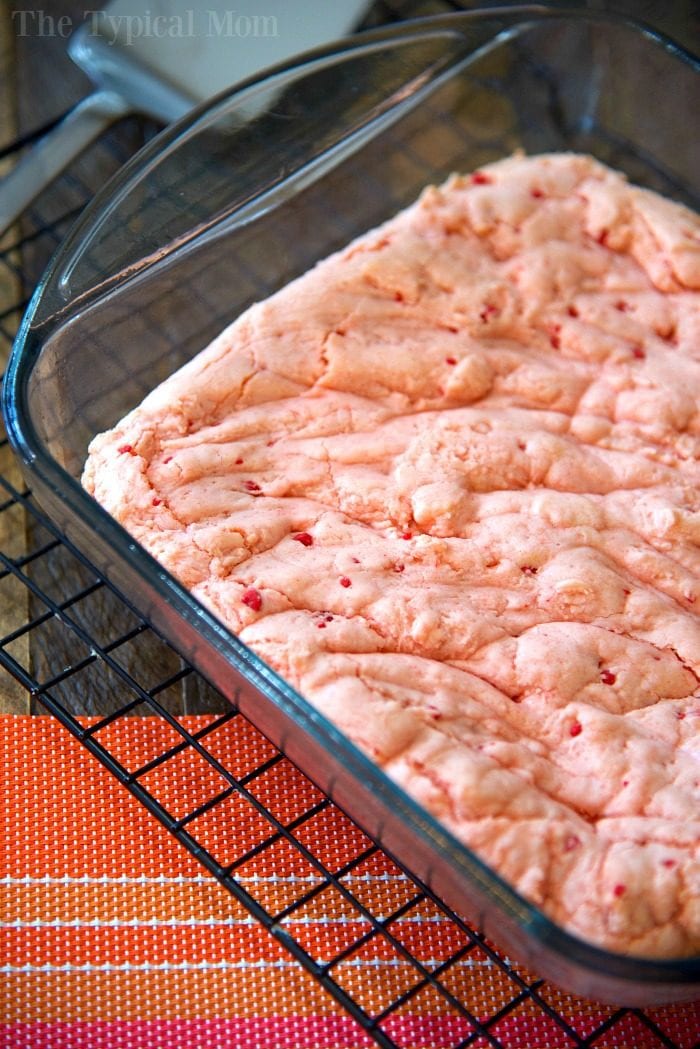 How to make brownies out of cake mix
Cake mix – we used strawberry but you can choose your flavor of choice
Oil
Eggs
Parchment paper – helpful to lift them out and cut them
If you love chocolate brownies try this with devil's food cake mix and add some finely chopped nuts if you like. They are quite good and definitely satisfy a sweets craving if you need something quick!
Looking for more cake mix desserts?
How to make brownies out of cake mix
This is how to make brownies out of cake mix easily with just 2 ingredients and any flavor of cake mix you like! Rich and chewy strawberry brownies are our favorite but try lemon cake mix brownies too. A quick dessert your kids will love and cheap to make for a bunch of people.

Instructions
Mix together your box of cake mix, eggs and oil well.

Spray your pan and add mix making sure it is smoothed out and the same thickness across your pan so they cook evenly.

Bake at 350 degrees for about 17 minutes or until edges are slightly brown, do not overbake!
Nutrition Facts
How to make brownies out of cake mix
Amount Per Serving (3 oz)
Calories 268
Calories from Fat 81
% Daily Value*
Fat 9g14%
Cholesterol 32mg11%
Sodium 388mg17%
Potassium 36mg1%
Carbohydrates 42g14%
Protein 3g6%
Vitamin A 45IU1%
Calcium 114mg11%
Iron 1.2mg7%
* Percent Daily Values are based on a 2000 calorie diet.
For more easy recipes, tips and free printables please LIKE The Typical Mom on Facebook and follow me on Pinterest! You can also sign up for my free weekly newsletter which is packed with goodies I know you'll love. 😉