I am always out to have a good meal with my family at a restaurant (yah for not cooking), though it is nice to have some quiet time to really catch up with my spouse and not all restaurants are prepared to have things to entertain my kids, ughhh. Here are some things I have come up with that are inexpensive, conveniently packaged, can be kept in the car to be used at a moments notice, and my kids love! Let's start keeping kids busy at restaurants so we can enjoy ourselves shall we moms!!
The one featured above is a winner! All the things were found and bought at Walmart and I keep them in my car so I always have them handy! An index card box is used to keep everyone's things together in a nice handy container (everyone has their own), calculator ribbon fits perfectly inside the index box, and the small crayola colored pencils  (or pip squeak markers too) are just the right size and won't melt like crayons would when keeping them in my trunk.
There is another one here using the small containers of play dough you can find here (affiliate link), or in some stores and just store them in an empty wipe container to grab and take with you. This one is great if you eat outside in restaurants a lot (we like doing that because then the kids don't have to be so so quiet inside the restaurant).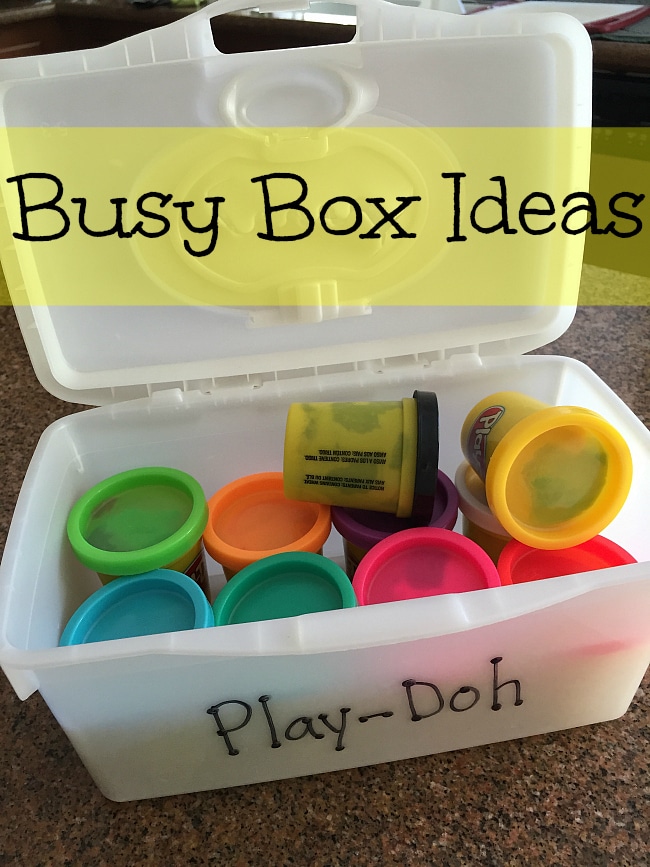 I have several other ideas here on a previous post with lots of busy box and baggie ideas to use when you are keeping kids busy at restaurants you can enjoy and create yourself so you can have a wonderful experience!
** Please join me on Facebook at Coupons Kids and Crockpots for more great crockpot recipes, online coupons, and inexpensive craft ideas you can do at home with your kids!