Instant Pot turkey tetrazzini is great using leftover turkey or rotisserie chicken! Cooked with tender noodles and vegetables all in one pot, you'll love it.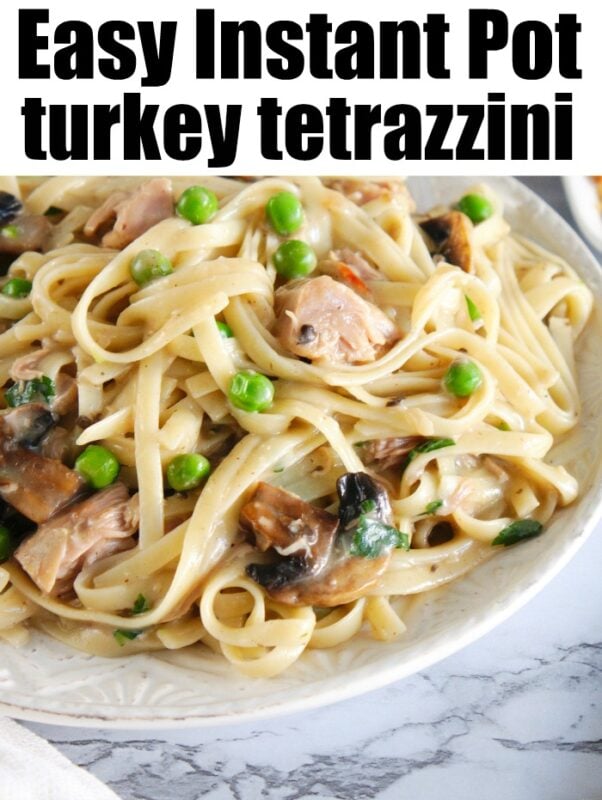 Looking for an easy leftover turkey recipe after Thanksgiving or Christmas? Try our Instant Pot turkey tetrazzini recipe. In under 10 minutes you can prepare a tasty meal for your family in just one pot with very little prep. That's my kinda' Instant Pot recipe y'all!
I hate to waste! That's why each year I try to come up with a few new leftover turkey recipes I can then share with you!
Our favorite has always been these turkey turnovers, but this year it was time for a leftover turkey Instant Pot recipe!
You could use this same recipe and swap in diced rotisserie chicken or canned tuna too. That way you can add it to your meal rotation year round! I guarantee you'll love it enough to make it over and over again.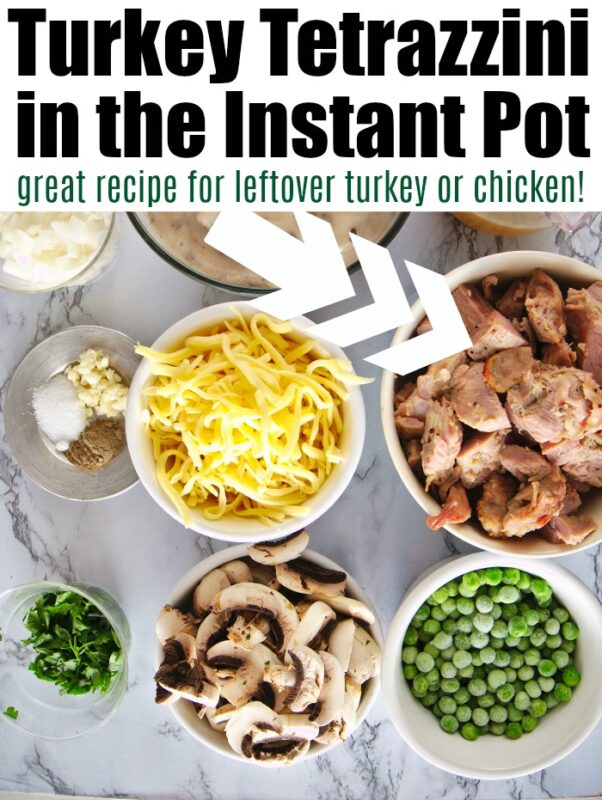 Here's what you'll need to make Instant Pot turkey tetrazzini
Diced leftover turkey – duhhhh, you probably have that and that's why you're here

How long can keep leftover turkey? 3-4 days is the general rule when refrigerated.

Uncooked egg noodles – these work best if you're cooking everything at the same time

If you want to use the longer "traditional" style noodles you see in the first photo, it's best to boil those separately

Frozen peas – okay you can leave them out but I like to incorporate some sort of vegetable in every meal
Mushrooms – I love quartered baby bella in Instant Pot casseroles because they stay somewhat firm
Garlic salt
Salt and pepper
Broth
Heavy cream
Cheese is optional but seriously it takes it over the top
Fried onions (homemade or canned) sprinkled on top of each serving – OH MY yes you have to try this too
Can you use your Ninja Foodi to make this too? Of course!! We're equal opportunity pressure cooker lovers here, no judgement. 😉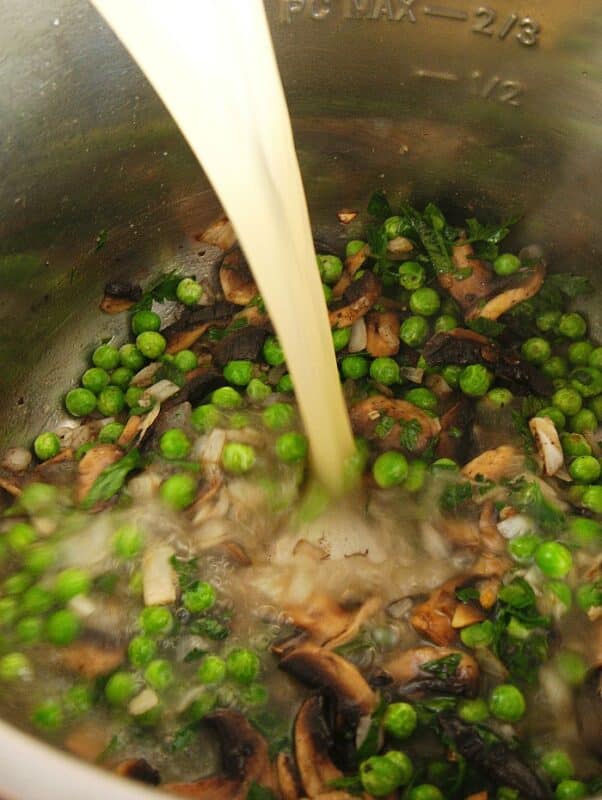 Where did turkey tetrazzini originate?
The dish is named after the Italian opera star Luisa Tetrazzini actually. It is believed to have been invented around 1908–1910 by Ernest Arbogast.
He was the chef at the Palace Hotel in San Francisco, California, where Tetrazzini was a long time resident.
What is turkey tetrazzini made of?
Quite a few recipes use condensed soup to make preparation quick and easy. I too make a lot of casseroles using condensed soup. Sometimes it's an issue when using a pressure cooker though.
This one is from scratch with more of a homemade cream of mushroom base. I think it turns out better, and at the end of the day you can adjust seasonings to your liking.
Basic steps to follow when making this leftover turkey pasta recipe
First you'll want to dice up your meat, bite size is always best. You can use white or dark meat or a combination of both. Like I said, precooked chicken breasts could be used as well.
Add the chicken or turkey into your pot, then add mushrooms that have been quartered.

you don't want them too small or they'll become mushy

Then add garlic salt, pepper, and other seasonings you like.
Pour in your frozen peas and then your uncooked noodles go on top.
Chicken broth is poured over them to get them wet, but you'll need to gently fold them in just so they're pretty submerged.
Set to pressure cooking mode, high for 3 minutes followed by a quick release.
Now it's time to thicken it up with heavy cream and cheese.
Remember – the longer this sits the thicker this comfort food will become.
Serve topped with parmesan cheese and/or fried onions to take it over the top.
Cooking time is just 3 minutes if using small egg noodles! Spaghetti noodles would need to be broken into 3 equal parts and not stirred in. I wouldn't recommend these other than making my Instant Pot spaghetti though.
Can you freeze turkey casserole?
Since this has pre cooked meat, you have more flexibility. You could essentially freeze this casserole uncooked (without the noodles), and save the cooking for later. You'd need to completely thaw it out before putting it into your pressure cooker though.
Once it's cooked you could freeze the leftovers, or store them in the fridge. Either way it is best to use airtight containers or freezer bags.
How to use leftover turkey other than this killer recipe?
Ready to make turkey tetrazzini in an Instant Pot now? I've provided a recipe to print below with the nutritional information included as well. Seriously though, ignore that and just enjoy this with your family!
Instant Pot Turkey Tetrazzini
Instant Pot turkey tetrazzini is great using leftover turkey or rotisserie chicken! Cooked with tender noodles and vegetables all in one pot, you'll love it.
Ingredients
1.5

c

turkey

precooked, diced into bite size pieces

1

c

frozen peas

optional

1

c

mushrooms

quartered, baby bellas are firmer and work the best

3

c

broth

chicken, beef or vegetable

1

tsp

garlic salt

1/2

tsp

pepper

1/4

tsp

salt

may add more later once done, to taste

1

c

half and half

1.5

c

cheese

optional but yummy, shredded cheddar and jack/mozzarella is go

12

oz

egg noodles

extra wide egg noodles works best

1/2

onion

diced
Instructions
Put your leftover diced turkey, onions, frozen peas, quartered mushrooms and seasonings into your pot.

Pour your bag of egg noodles in and then pour your broth on top of them. Gently fold them in so they're mostly submerged into the liquid.

Close the lid and steam valve and set to high pressure for 3 minutes. Do a quick release when done.

Lift lid, gently stir contents, pour in half and half and cheese and gently stir all ingredients together again.

Put lid back on ajar just so cheese can melt and casserole can continue to thicken for about 4 minutes.

Lift lid, gently stir and serve or allow to sit for 5 more minutes to continue to thicken more before serving. The longer it sits the thicker it gets.
Nutrition Facts
Instant Pot Turkey Tetrazzini
Amount Per Serving (3 oz)
Calories 515
Calories from Fat 198
% Daily Value*
Fat 22g34%
Cholesterol 132mg44%
Sodium 1424mg62%
Potassium 390mg11%
Carbohydrates 54g18%
Protein 27g54%
Vitamin A 870IU17%
Vitamin C 1mg1%
Calcium 322mg32%
Iron 2mg11%
* Percent Daily Values are based on a 2000 calorie diet.