How to organize and deodorize your car! Great air freshener that looks good and smells fantastic and ways to organize the clutter kids leave behind.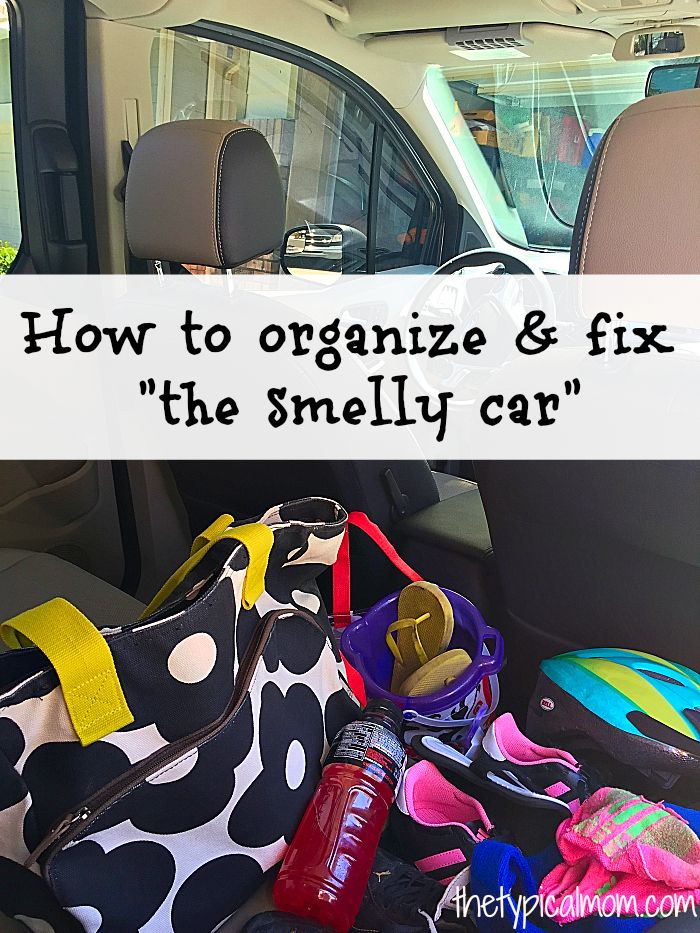 Yes…..my car actually looks like this! I have 3 busy kids in soccer, band, travel to two different schools every day….and the list goes on and on. I'd like to say I clean it out every day, but I'm lucky if I get to it once a week….life of a Mom I guess.
How to deodorize a car
This weekend it was time to organize and deodorize this smelly car and it looked and smelled fantastic when I was done, let me show you what I did. Like I said we have soccer shoes, socks, shin guards, music sheets, water bottles. The list goes on and on in my car.
My teenagers car is worse. Since we use most of it every week I tend to keep it in the car or else it will probably get forgotten! With the beauty of things you bring with you for sports comes the smell…..seriously??!!
I've seen air fresheners for the car before but can we say "tacky"! I can't do things hanging from my mirrors or dangling from other hooks in my car. My summer to do list had clean the car out on it this year!!
Best Car Deoderizer
This new line of automotive air fresheners clips right to your visor!! It's called PERK Visor Wrap and comes in several great scents like Caribbean Colada, New Car, Summer Berry and more.
My favorite is this Golden Vanilla one. It fits all visors, mine is quite large and it still slips on easily. Since it's out of my line of sight and fits snuggly around the edge of the sun visor it's not distracting (or tacky) at all!
Car Odor Eliminator
In my quest to organize my car I found another great "perk" about PERK….it's a great place to tuck my sunglasses away when I get home or get out of the car! 😉
Easily found at Walmart, Target, CVS and other locations you'd find auto air fresheners, it's long lasting and the smell on the first day is the same as the last. Here's a $1 off PERK coupon to take with you when you go!
Now that the smells have been conquered, it was time to organize the clutter! After purging the trash, shoes we didn't need on a regular basis and a bit of vacuuming, I kept a few "just in case" things in this storage bin in the back…..yeahhhh!!!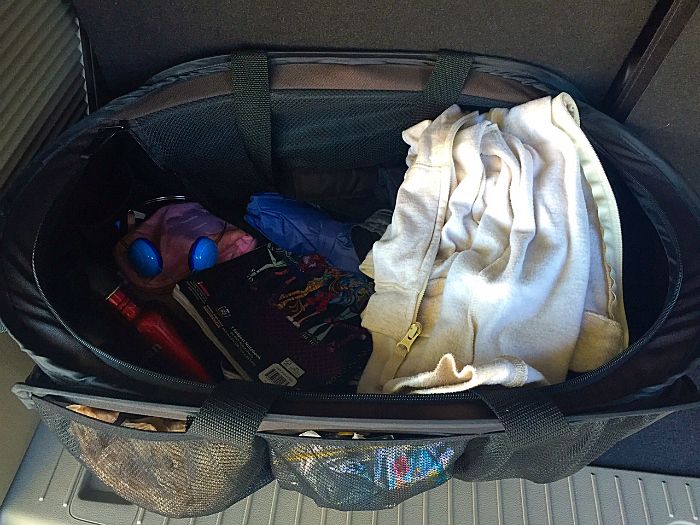 I also put together a few fun busy bags for the kids in small containers to keep them occupied on longer drives but keeps their clutter contained. Problems solved! 😉