This is how to find the best prices online! Wikibuy does comparison shopping done for you and saves you money on the products you want online. Free comparison shopping service, plus $10 sign up bonus.
I'm all about a good deal, a bargain hunter you might say. While I enjoy a great bargain, I also enjoy shopping in my jammies with a cup of coffee in hand, online that is! 😉 Although it is easier to shop online to find the best deal, wouldn't you love to find the best price online automatically?? It's possible! Let me show you how Wikibuy does it. Special thanks to them for sponsoring this post.
If you're a big Amazon shopper like I am, you may get used to their great prices. I just assume that there is no better, but sometimes there is.
Instead of finding the item you want, then opening a few more tabs comparison shopping, Wikibuy is here find better prices automatically! Here's how it works:
First you'll want to go to Wikibuy's

website, download the extension, and create a free account. It will automatically prompt you to add the Wikibuy bookmarklet.

Now when you log into Amazon to do some shopping, Wikibuy will work with NO work on your part and alert you when there is a better price elsewhere + you get $10 free on your first purchase.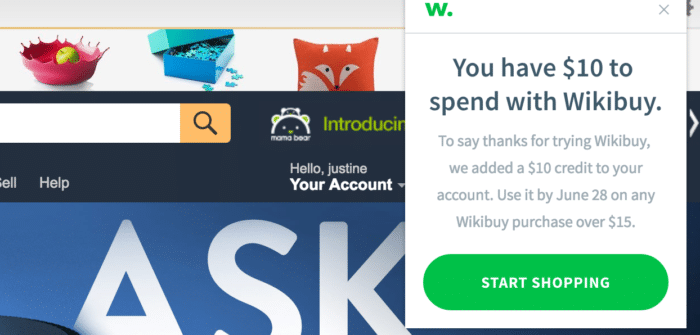 This little box on the bottom left pops up in 10 seconds or less and either says "there is no better price", or shows you how much extra money you can save on these headphones for example.
When clicking "quick view" it shows you how much you will save if you choose the other retailer they found for that specific item + takes $10 off your first order. Saving $44 automatically with no work on my part is fantastic if you ask me…especially when Christmas season arrives!
Do you order almost everything online like we do?? If so Wikibuy is a great FREE service that helps you check for better prices automatically, finds the lowest price on what you want + every purchase it guaranteed. I don't know about you but I'll take all the help I can get! 😉