We love making homemade Teacher's gifts. During Teacher appreciation week and for the end of the year it is nice to show your Teacher just how much you appreciate them, and we think homemade gifts say it best (I'm a former Teacher and these were the best). Let me show you what we came up with this year to give as an end of the year "thank you" to my childrens' Teachers. Special thanks goes out to Goldfish® crackers for sponsoring this post so we could share our activity (and yummy snacks) with you.  #sponsored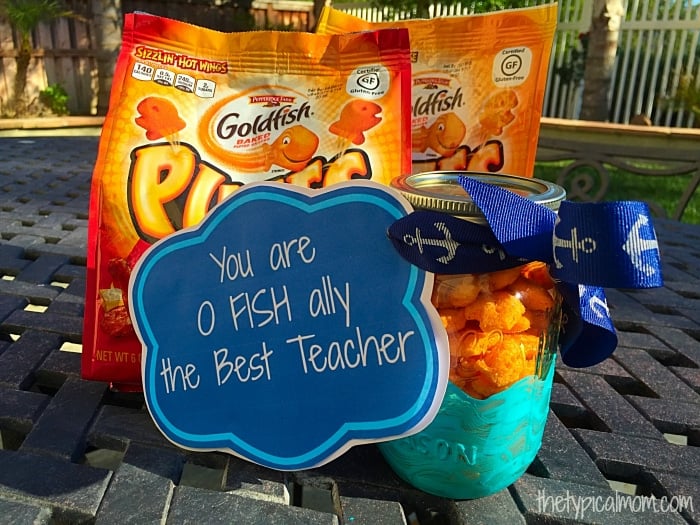 This year we decided to use the Goldfish Puffs we love so much (did you know they are gluten free too), and create a fun mason jar full of them with a special note attached "You are O FISH ally the Best Teacher"….thought that would put a smile on their faces. 😉 There were a few things we needed: Goldfish Puffs (we like the twisted grilled cheese and sizzlin' hot wings flavors), a mason jar, blue paint, ribbon, and a bit of card stock.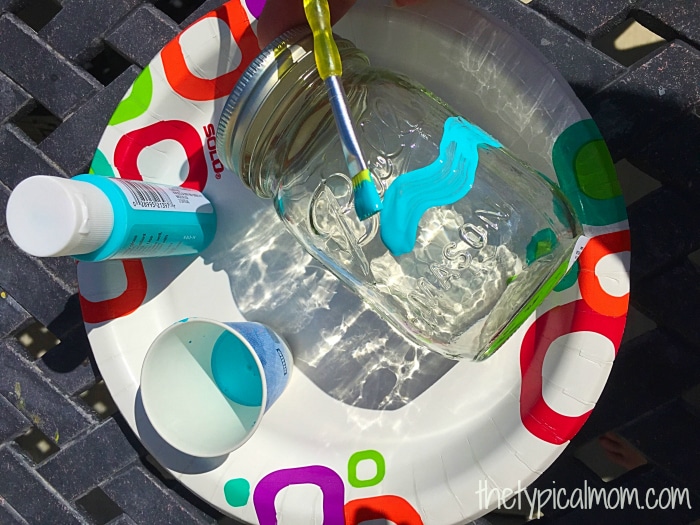 We just used some gloss acrylic paint to put some color on the mason jar to jazz it up a bit. We just added a bit to a small cup and made a swirl of paint about halfway down, and all around the outside of the jar. Then, we needed to print out the tag to go on our jar  and cut it out. I created one for a Teacher and one for anyone else. This gift could be cute for Valentine's Day or for party favors, so in that case just use the one on the bottom.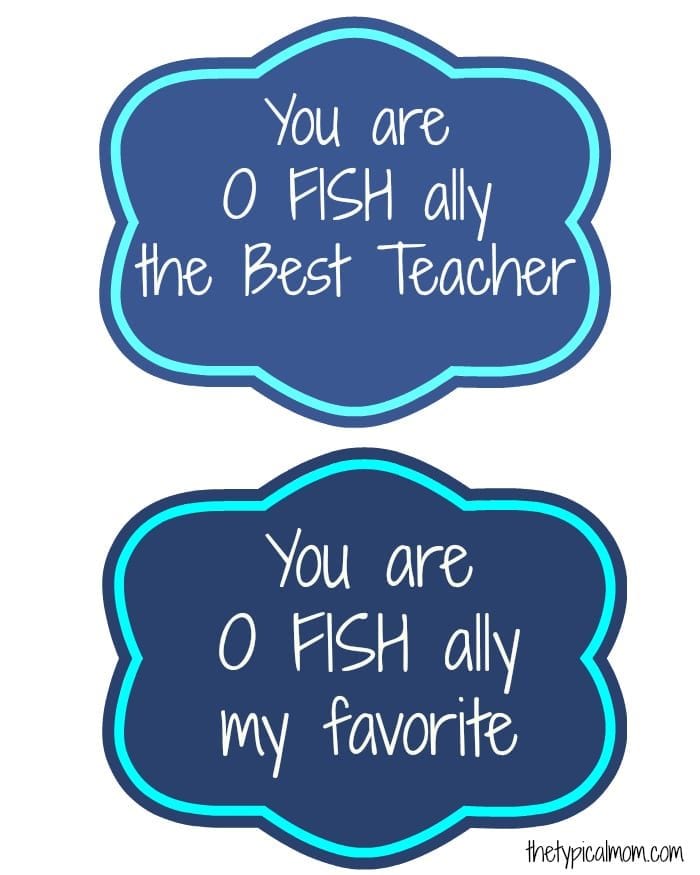 Next we decided to cut out some card stock to adhere our labels to, just so that it wasn't so floppy. We also wanted to do this so we could tape a gift card to the back of our sign for an extra "we love you" Teacher bonus. 😉 Just cut around the outside of the label you chose up above, then tape it on a piece of card stock (we used white), then cut around the edges leaving an area around it that will show.
As you can see the outer edge is white card stock, and our paint is now dry. Now get a hole punch and put a hole in the corner of the tag. I found cute ribbon with anchors on it at the store but any ribbon will do. Just thread the ribbon through the hole, and now we're ready to fill our mason jar with our favorite baked Goldfish Puffs crackers! If you haven't tried the new grilled cheese and hot wings flavors they are really good…even my little one snacked on the spicy ones while we were making these gifts. 😉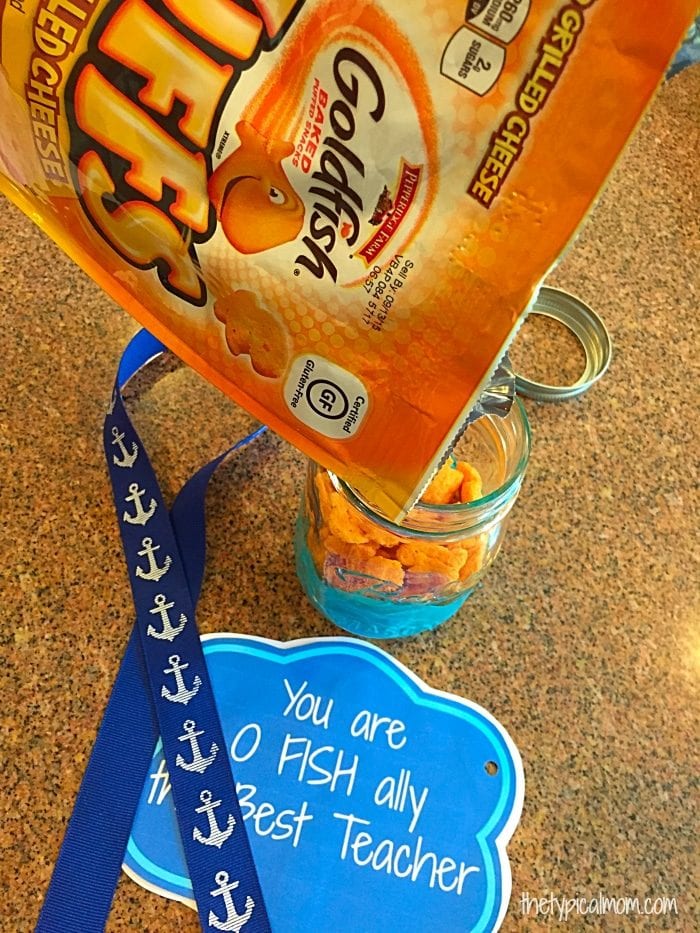 These homemade Teachers gifts are really easy and I like them because your kids can help you put them together too. They will love helping you paint, taping the signs, writing a note on the back, and helping you pour the Goldfish crackers in to complete your gift. Now you're ready for the final bow and you're ready! If your child wants to write a note on the back of your sign have them do it before you tie the ribbon on. 😉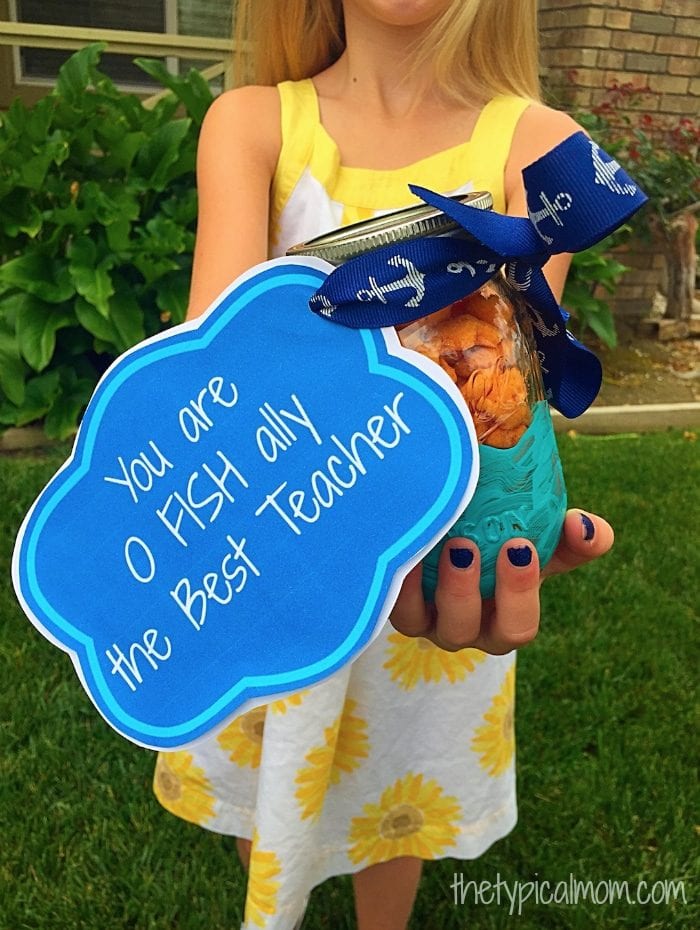 Yeahhhhh and we're ready to treat our Teachers with some Goldfish Puffs, a sweet note, and big hugs too! You can find everything you need at Walmart, or your local grocery store and a craft store for the paint and card stock. To save a bit of money there will be a Goldfish Puffs coupon in your Sunday paper on the weekend of June 14th too so be on the lookout for that!! #goldfishpuffscoupon