Free minions inside General Mills cereal boxes at Walmart. Find 7th Minion toys inside specially marked boxes of cereal now.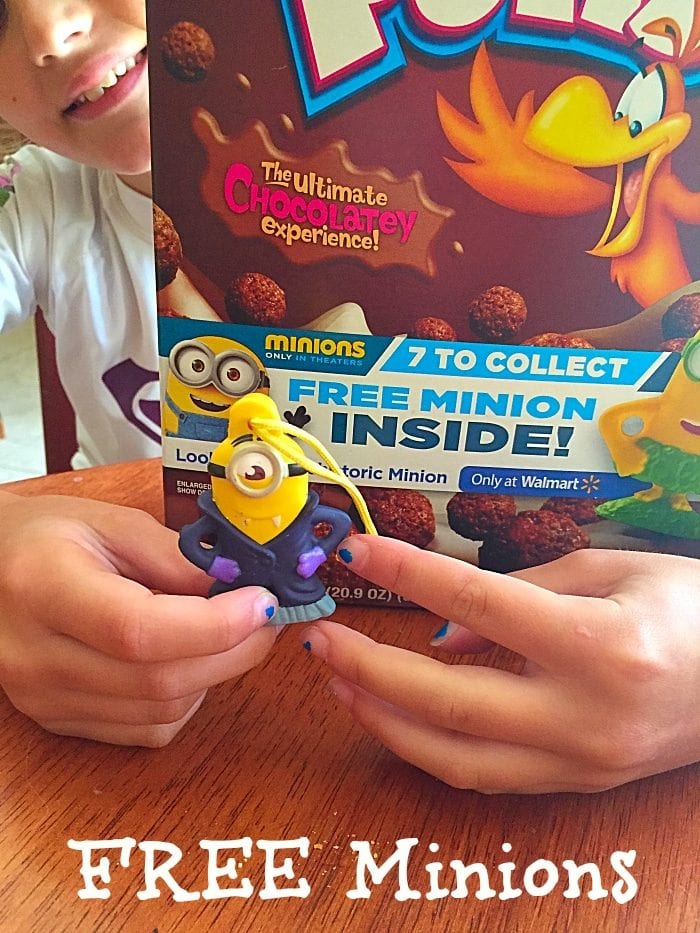 Yes….you heard that right!! Your favorite character is hiding and ready for you to find him in specially marked General Mills Cereal boxes. Let me tell you how we found these and these toys in popular cereals we buy regularly anyway, and the nostalgia I felt when I saw their faces as their Minion was pulled out. Do you remember how excited you were??!! This shop has been compensated by Collective Bias, Inc. and its advertiser.
I totally remember back in the day when almost every cereal offered a "prize" inside. I think I chose the cereal according to what was inside, never mind what it tasted like!
Scanning the row of boxes looking carefully at the front picture and what was hidden inside.
My Mom literally had to pry me out of that aisle because there were just too many decisions. Trying to decide which toy I wanted took some time. 😉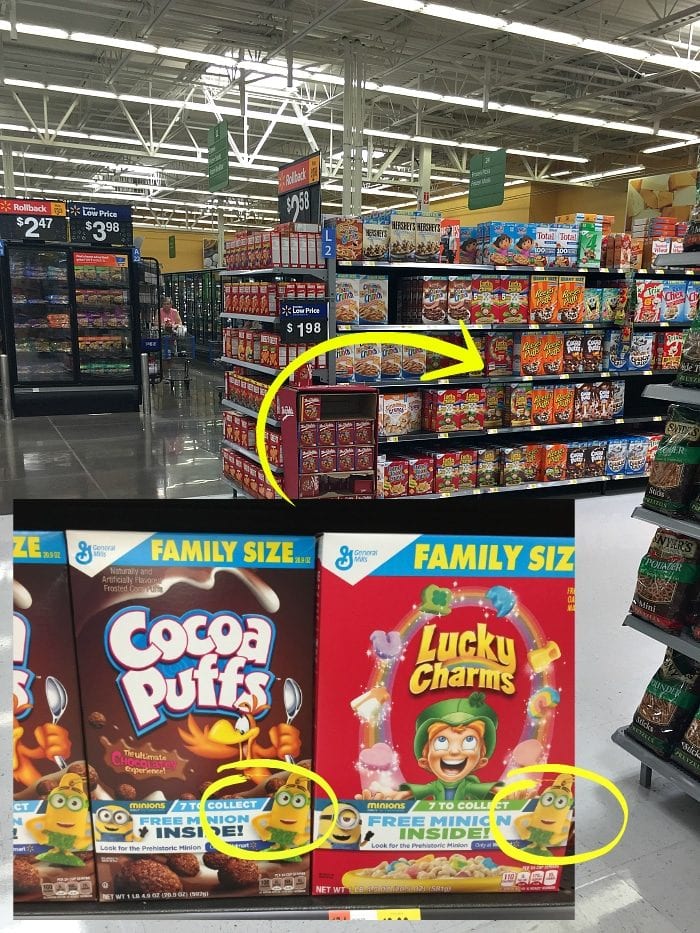 Nowadays toys are rarely found inside kids cereal boxes, but the other day I spotted some at Walmart! On the front of several General Mills breakfast cereal boxes (family size) was a picture of a Minion….my kids love this character!
1 of 7 different 7th Minions were included in popular cereals like Lucky Charms, Cocoa Puffs, Honey Nut Cheerios Cinnamon Toast Crunch, Reese's Puffs, Trix and Golden Grahams.
I chose those 3 types of cereal because we typically buy those anyway, and of course I had to buy 3 because I have 3 children (otherwise that would be a disaster….you know where I am coming from here).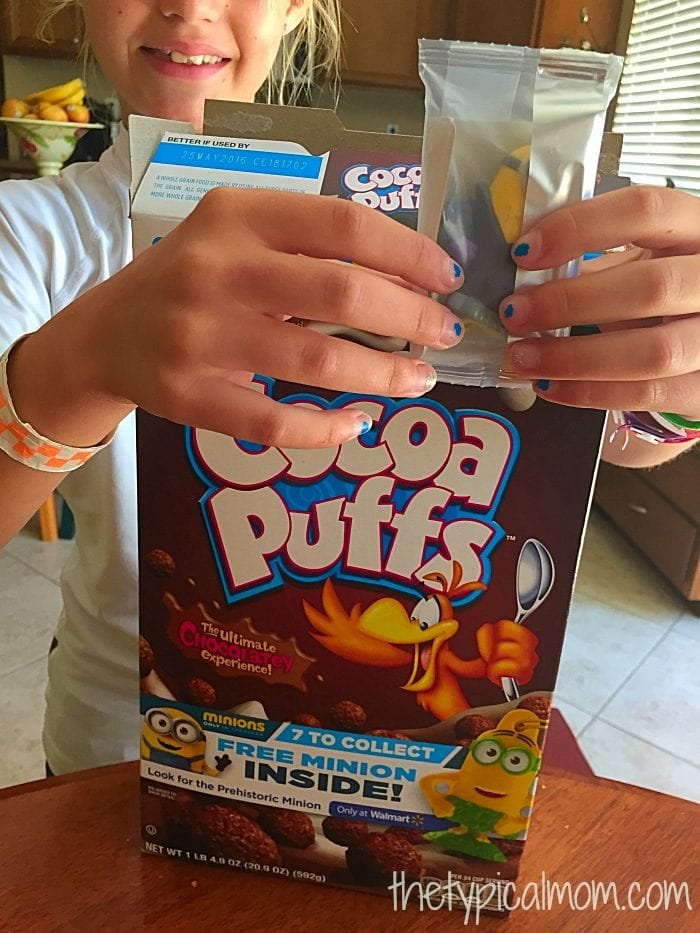 As soon as I picked them up from camp they immediately asked if they could have cereal for a snack, and could they see what 7th Minions were inside.
Of course they couldn't wait. Luckily we got 3 different ones!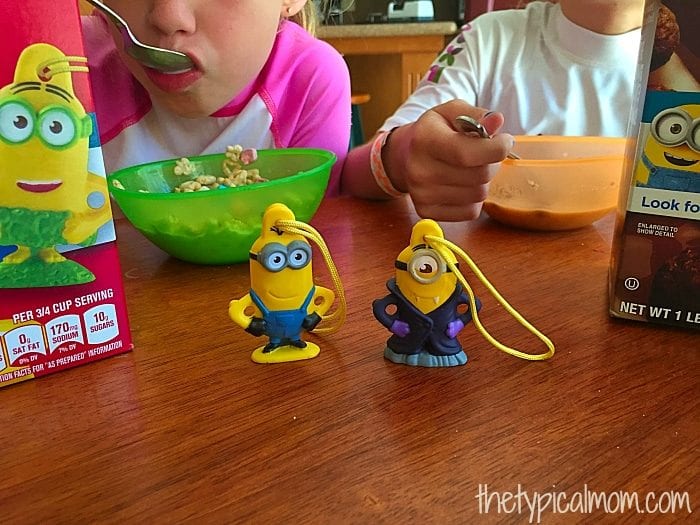 I remember having to dig thru the cereal we bought to get to the bottom of the bag, luckily in this day and age they include it on the outside of the cereal bag so there's not a disaster everywhere.
Thank you for this now that I'm a Mom!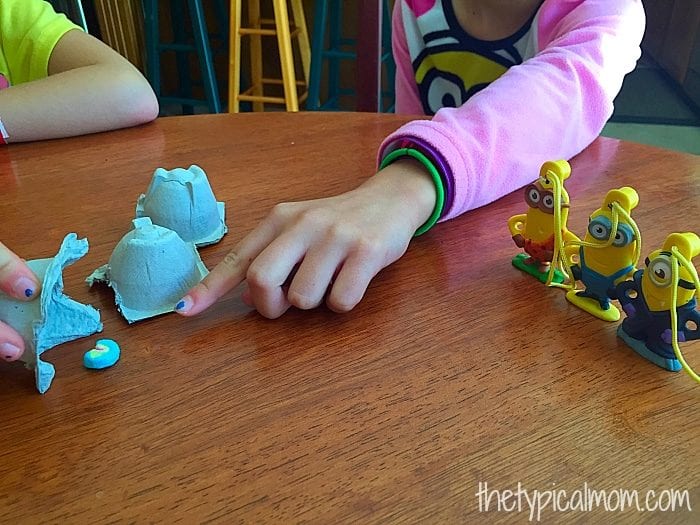 After our snack the kids decided to play a game of "what egg carton dome is the cereal under". The simplest thing entertains them. 🙂
With their Minions as an audience they were set for the rest of the day. There was Box Tops on there too which was a 2nd win. Check your local Walmart to find these specially marked 7th Minion General Mills Cereal boxes too!