This easy Jiffy crockpot corn casserole recipe is cheesy and perfect vegetarian side dish at Thanksgiving or Christmas! Moist sweet corn pudding you'll love, based on our cream corn casserole recipe in the oven but this year I wanted to figure out how much time it would take in my slow cooker.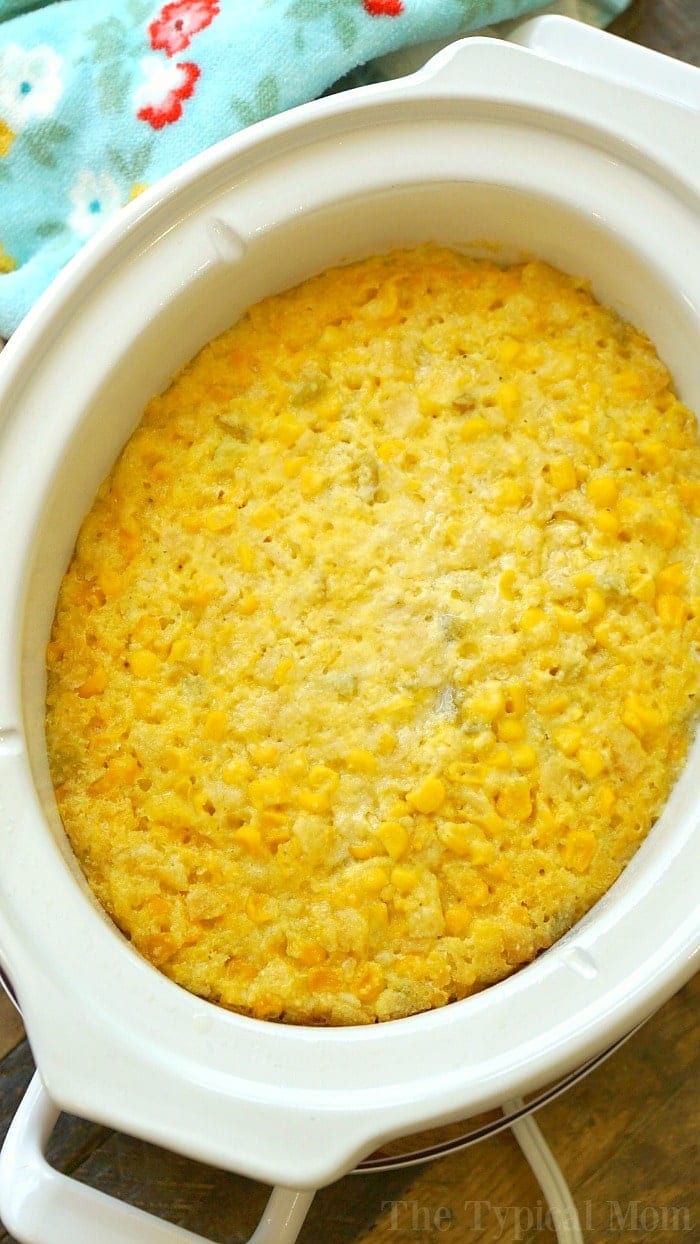 This easy crockpot corn casserole recipe is always a Thanksgiving and Christmas side dish hit. It's actually so good I make it throughout the year. Leftovers are amazing too! 😉 It's one of our favorite side dish crockpot recipes here on The Typical Mom blog for sure. (affiliate links present)
Slow Cooker Corn Casserole
If you've never tried this tasty creamed corn side dish it is one of my favorites. You can make it a bit spicy with heat using a can of diced chiles or jalapenos. We keep ours mild for adults and little ones during the holidays but both are excellent.
If you are serving a crowd you might want to make a batch of this and buy more boxed mix to cook a pot full of Crockpot cornbread. Both are wonderful with different textures but similar ingredients so it is cheap to include both.
FIRST – You should sign up for my free newsletter so you get new posts emailed to you twice a week and never miss out on anything! Let's talk a little bit about slow cooking shall we?? First off I have a few different varieties and I love them all. Each one has an occasion to be used like….
This is my favorite 6 quart programmable one with a locking lid so it's great for bringing to a potluck too.
If you just want to serve a few appetizers you should get this one that sit side by side one another.
I prefer not to use liners, but rather just spray olive oil inside before adding my food for easier cleanups.
Let me give you a peek of my pretty thang I bought recently. It goes with my kitchen so I can just leave it out on the countertop all the time. 😉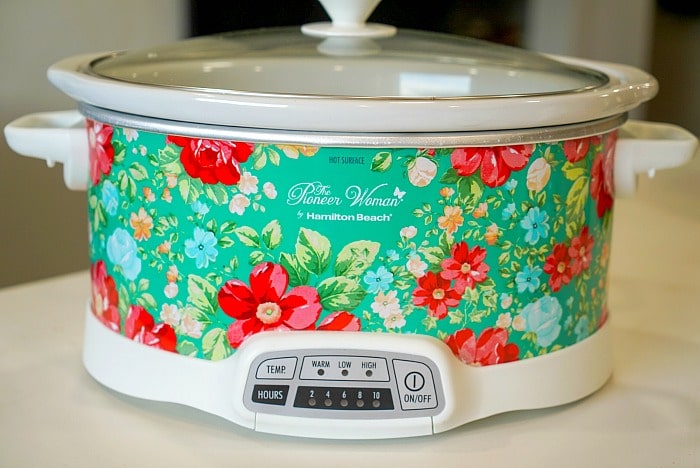 Jiffy Corn Casserole Crockpot
Made with Jiffy cornbread mix it is inexpensive and quick to throw together. There's a bit of sweetness to it that everyone loves too. I use my 6 or 8 quart crockpot for this so the mixture can spread out and cook evenly.
Like other casseroles the edges will get a bit more done than the center so keep that in mind. We somewhat like the differences as I appreciate a more done scoop while my kids prefer a looser bite. It is also a great way to keep this warm for hours. Just switch to the warm setting when done.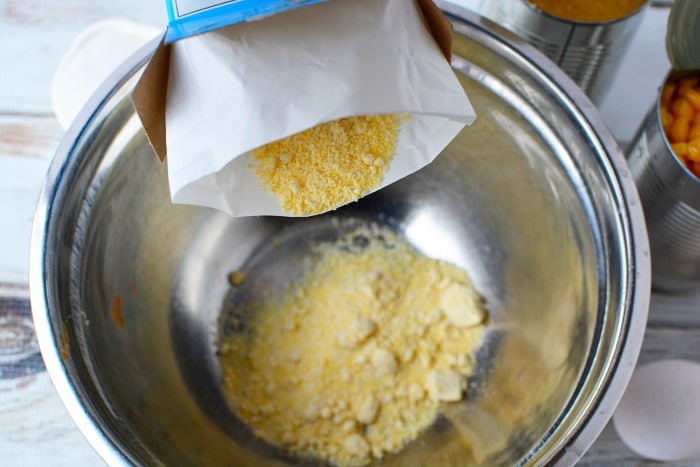 Crockpot corn casserole
Of course you'll need your favorite slow cooker. A larger size is better so batter can spread out and cook evenly.
Sugar
Sour cream
Eggs
Corn and cream corn in a can
Drained diced chiles are optional but I think it is a great add in for sure. Using a box of ready made mix you can skip other ingredients since those are already included. Such as in our Spoonbread Recipe it is similar but from scratch uses cornmeal and leavening agents separately. Just a bit easier overall.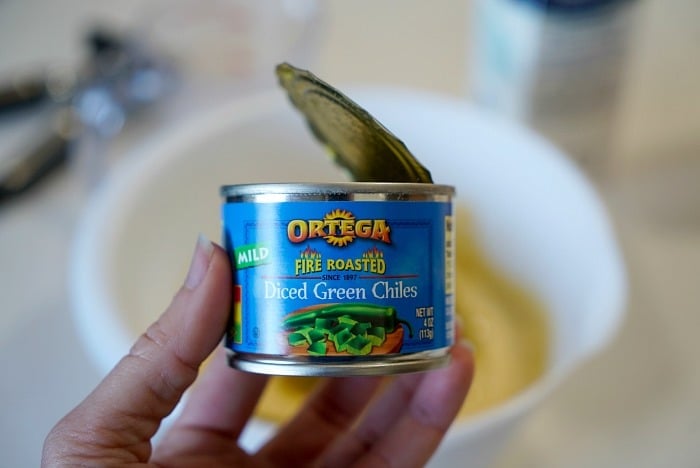 Crock Pot Recipe for Corn Casserole
Cheese on top is optional but not for us. We add a bit inside the mix and on top at the end. If you need a dairy free option on the top there are some great options out there. We have used Daiya brand, cheddar that is lactose free for those who's bellies get a bit upset with it.
If you want the top to be a bit golden and brown you can. Just stick the whole Crock under the broiler for a few minutes.
Some non stick cooking spray or liners are great to use inside your pot for an easier cleanup later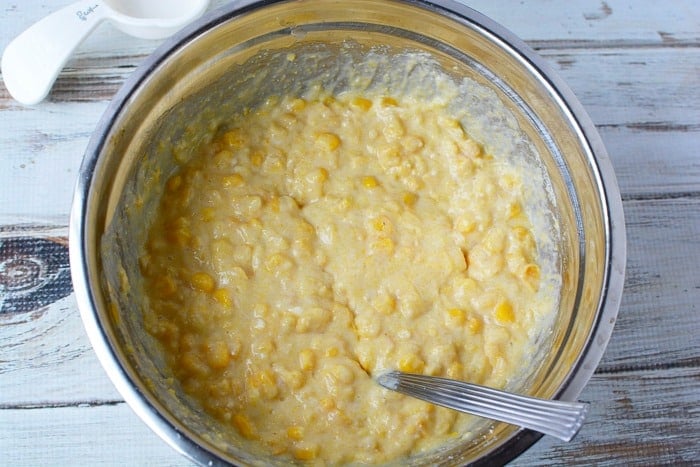 Why do I love crockpot side dishes? Because during the holiday season you have a lot going on in your oven. Being able to eliminate even one dish is always helpful. It is kinda' a dump and go side too because it can be served right out of your Crock! What about doubling this recipe?
I haven't done this but I suppose you could. Cook time would probably need to increase and I'd use at least an 8 quart slow cooker so the mix spreads out and it cooks evenly.
Slow Cooker Corn Casserole Recipe
If you're having a rather large holiday meal you might need to try this.
Shredded cheddar cheese or pepper jack cheese on top

Sprinkle on top for the last 30 minutes of cook time so it melts

As I said I've added 1 can of drained diced chiles into the mix before
You could finely dice a seeded jalapeno into the mix for heat
Some have added a bit of room temperature cream cheese to their mix. I haven't tried this yet. Other people call this corn pudding, others say Jiffy corn casserole. They're all very similar with slight tweaks.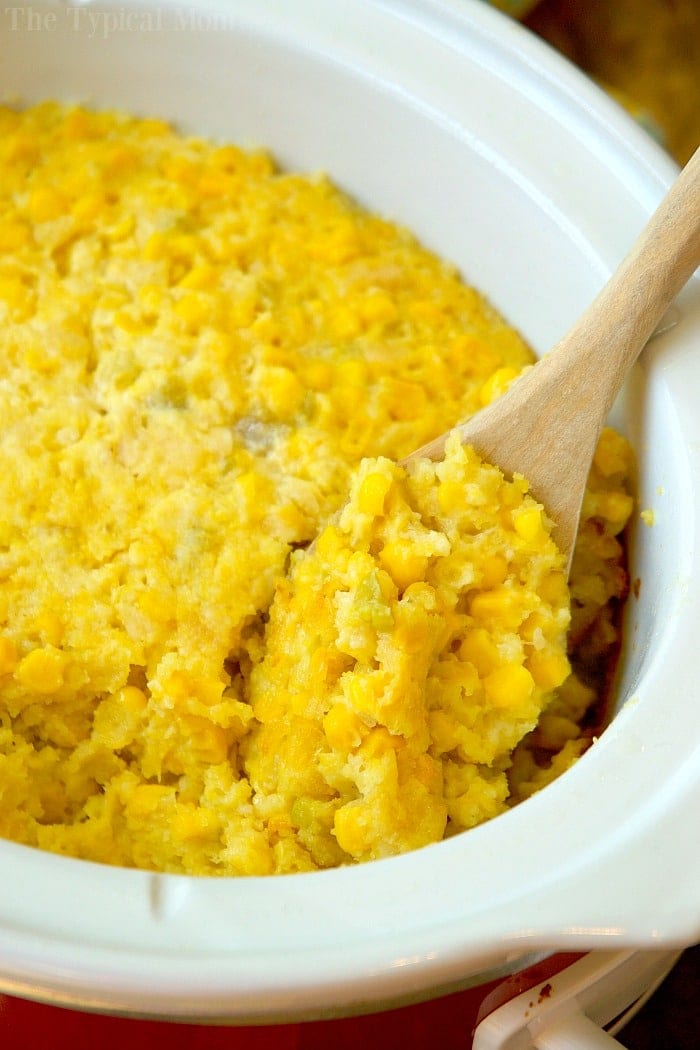 Here are the basic instructions to follow:
Mix all ingredients together in a bowl. It will be a bit chunky but that is okay.
Spray your Crockpot with non stick spray
Mix together sweet corn kernels, creamed corn, corn muffin mix, eggs, sour cream and sugar in a bowl.
Pour batter into large slow cooker. Spread out evenly so it cooks on outsides and center properly.
Melt butter and pour over top.
Cover and cook on high for 2-3 hours until center is set and firming up.
Use toothpick to ensure it comes out almost clean (it is supposed to be a soft kinda' looser dish) If you want to add cheese to top, do so 30 minutes before it is done so it can melt.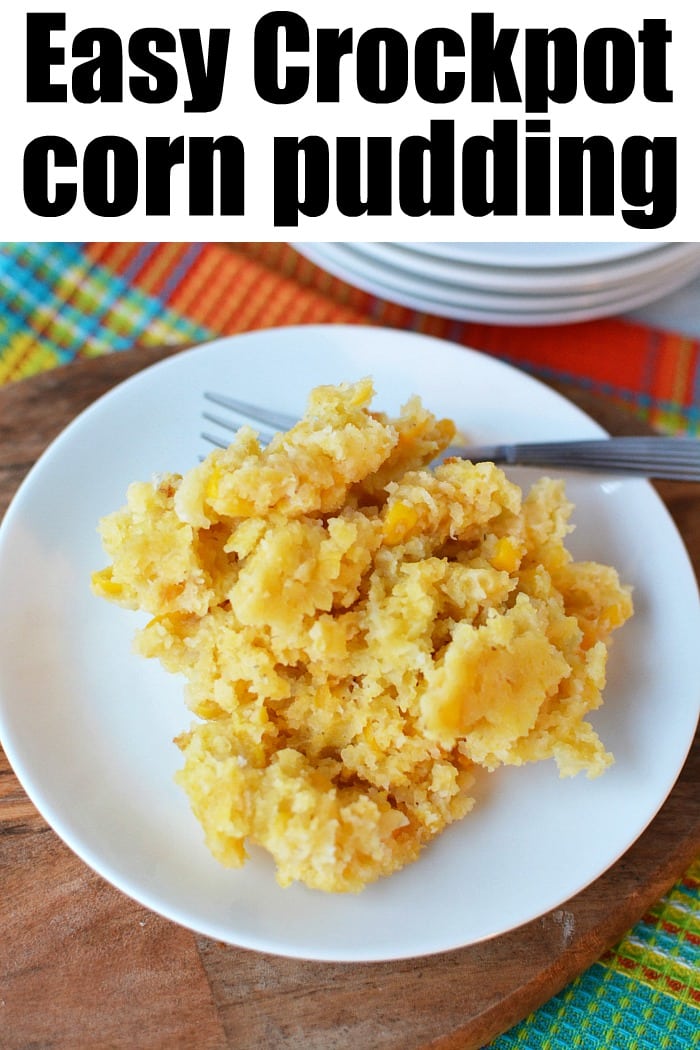 Is corn muffin and cornbread mix the same?
Most traditional corn muffins contain corn, cornmeal, water, butter, flour and sugar. Some people sweeten the corn muffins further with honey, yogurt and vanilla extract.
Cornbread muffins though are traditionally made with cornmeal, water, butter and flour.
SO yes they are very similar, but have a few differences.
If you cannot order or find Jiffy you could try whatever variety you can find. Just use about 9 oz. of it.
Does cornbread casserole need to be refrigerated?
Yes! If there are leftovers you should put them in an airtight storage container. Alternatively you can put it on a bowl and cover with plastic wrap and refrigerate. Pint size freezer bags are another great storage option.
If you're looking for a meatless side dish you can opt for this vegetarian Jiffy muffin mix. We have made this quickly to using our Instant Pot corn casserole recipe!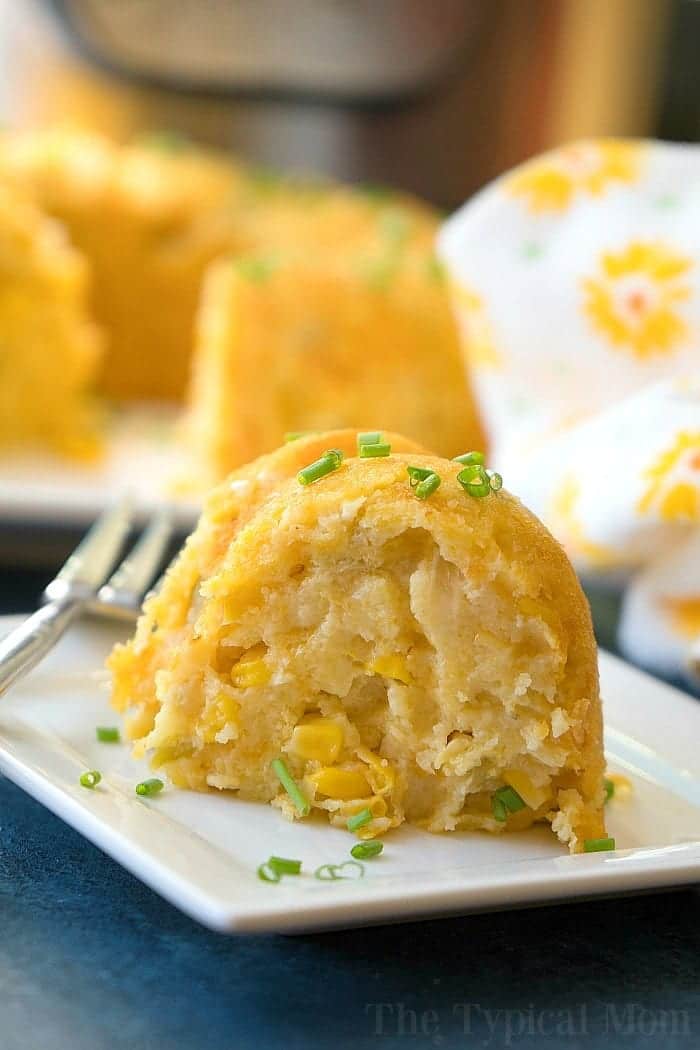 There are several variations of this east Crockpot corn casserole recipe, but I love this one. I've made it for years. The only thing I've added differently this time were some chiles which added more flavor, not spice. I use a can of mild diced chiles but you can choose the amount of heat. Medium would be great too.
Can you freeze corn casserole?
I honestly prefer to refrigerate what's left and eat it the next 2 days or so. It reheats well in the microwave in about 30 seconds.
BUT if you have a bunch you can use freezer bags and store for longer periods of time in the freezer too. To reheat allow it to reach room temperature ideally, and then warm in microwave or oven. Want to make another Crockpot side dish? We love slow cooker cabbage too.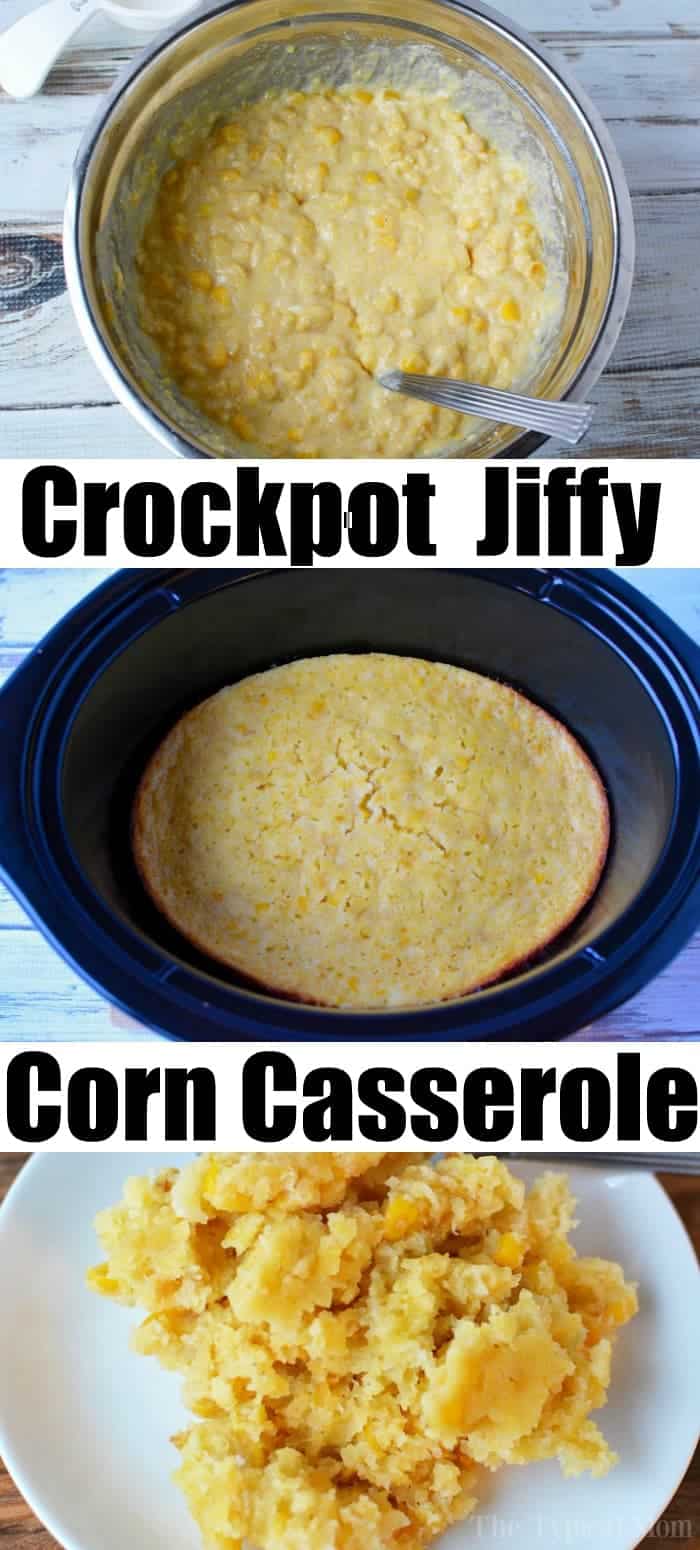 Want to see a few of my favorite things that I am totally obsessed with?? Take a peek and see how many you might already have…twinsies!
Looking for more easy family recipes and tips? LIKE The Typical Mom Facebook page?
Then sign up for my free newsletter, and follow me on Pinterest! 😉
***** If you LOVED this recipe give it 5 Stars below and let everyone know what you thought about it. 😉
Easy Crockpot Corn Casserole Recipe
This Jiffy easy crockpot corn casserole recipe is cheesy and a perfect vegetarian side dish at Thanksgiving or Christmas! Moist sweet creamed corn you'll love.
Instructions
MIx together corn muffin mix, sugar, corn kernels, creamed corn, sour cream and eggs in a bowl.

Spray inside of slow cooker with non stick spray and pour in batter. Smooth out so it is the same thickness all the way across pot. Pour melted butter on top.

Cover and cook on high for 2-3 hours or until center is set and firming up. Test with toothpick to see if it comes out mostly clean.

If desired you can sprinkle cheese on top for last 30 minutes so it melts when done.
Nutrition Facts
Easy Crockpot Corn Casserole Recipe
Amount Per Serving (2 oz)
Calories 520
Calories from Fat 216
% Daily Value*
Fat 24g37%
Cholesterol 100mg33%
Sodium 751mg33%
Potassium 399mg11%
Carbohydrates 70g23%
Protein 13g26%
Vitamin A 884IU18%
Vitamin C 9mg11%
Calcium 167mg17%
Iron 2mg11%
* Percent Daily Values are based on a 2000 calorie diet.