My favorite Dollar Store Christmas decorations that are cheap and easy to make and a great craft for kids too. Do it yourself holiday home decor for less.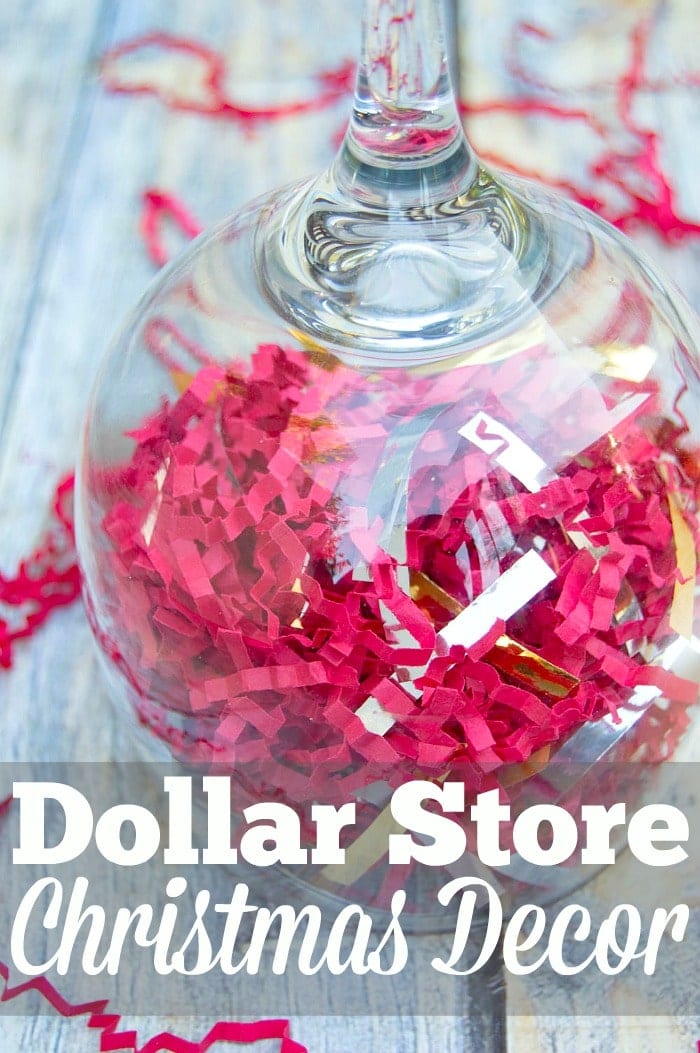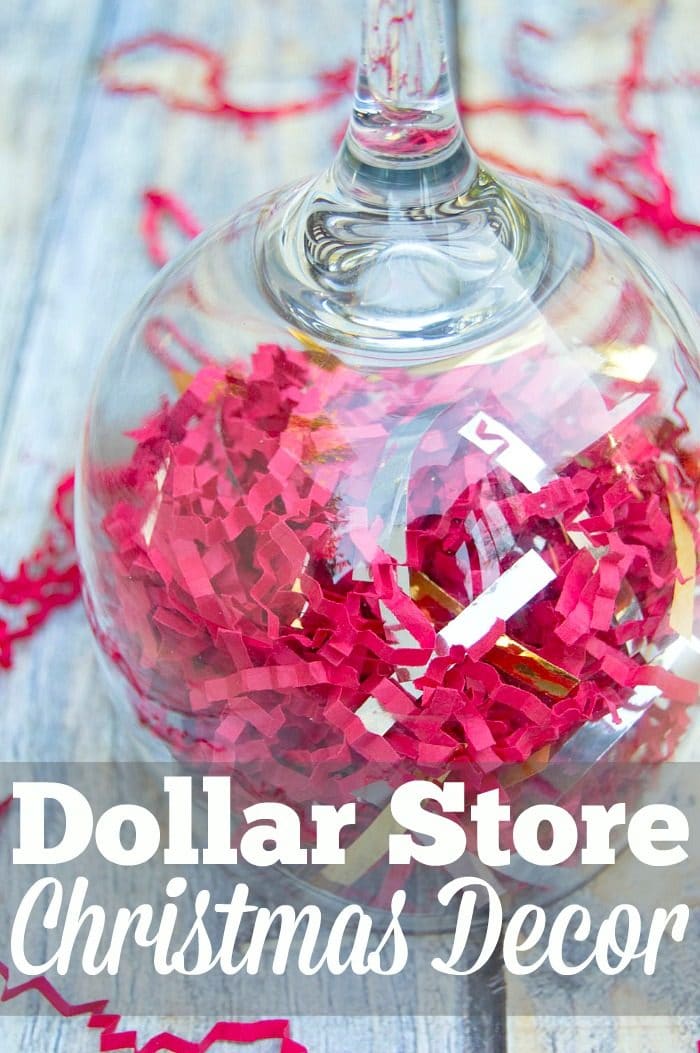 I love finding materials to make Dollar Store Christmas decorations for my home. For just a few dollars and a bit of imagination you can create centerpieces and decorations for the holidays from items there. As you know there are several stores that mark things down to a dollar for almost everything, we have a few different ones here in Ca. We have Dollar Tree, The Dollar Store, and the 99 cent store is popular too. All three have different inventory so depending on where you go and what time of year it is they will always have something different and there are endless possibilities when it comes to do it yourself Christmas decorations for less. Use your imagination! (originally published 11/15, affiliate links present)
First we have a simple candle holder you can jazz up and line a long table with for literally under $2 a piece!
Here is what you will need:
Wine glass
Small candle (they usually come in packs of 6)
Raffia or shredded colored paper or tinsel
This is what you do:
Wad up a handful of raffia, shredded paper or tinsel and put it inside your wine glass
Flip it upside down on the table and use a hot glue gun to mount your candle on to the bottom of your wine glass so it doesn't fall
Light candle and enjoy! (bonus is the bottom of the glass is bigger than the candle so the drippings will be caught and not hit the table as easily)
This first one is a centerpiece using a few items we found at the Dollar Tree (dollar store that is close to us). I am always amazed at what we find there. The most fun part is each week they get new things in stock so you can go often and come up with new things all the time. They keep a stock of certain things though like these small vases, candles, and such so you can count on those.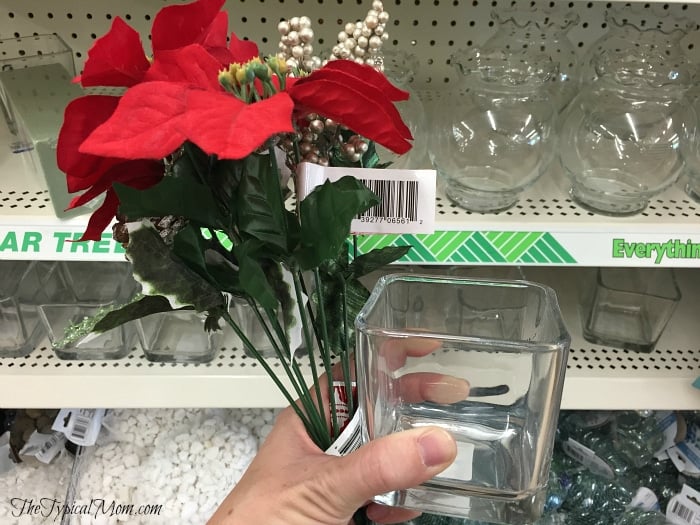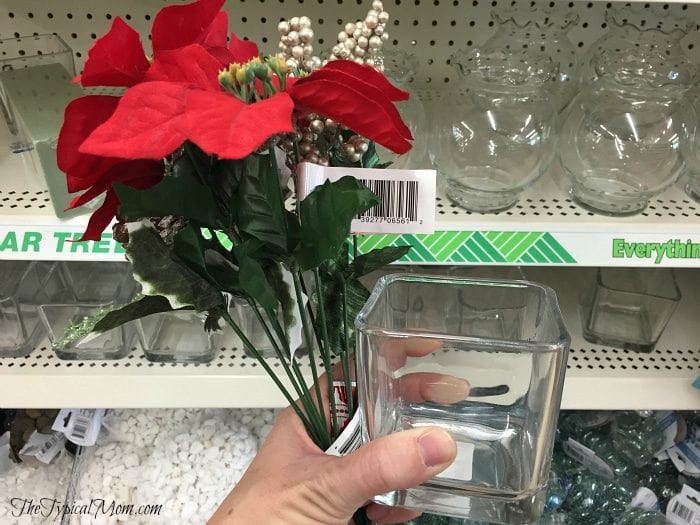 All of the items here were found at the Dollar Tree. You will need 4 boxes of candy canes. I used smaller ones I found but larger ones are find too if that's all you can find. You don't necessarily need the green piece for floral arranging either if you can't find that.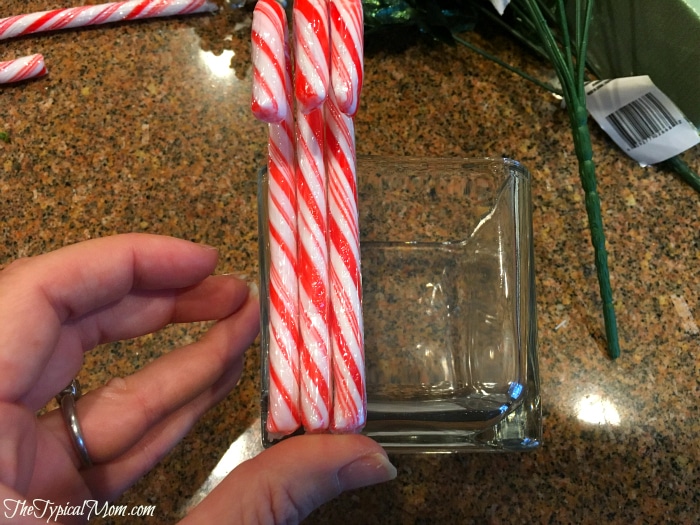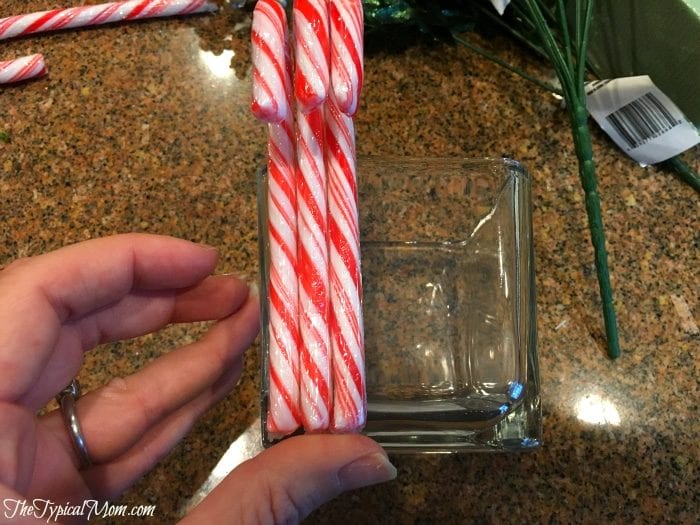 Use a hot glue gun and glue candy canes on outside of the vase. A square one is a bit easier. The bottoms and tops won't be exactly flush. You at least want them to not be longer than the bottom of the vase. Go all the way around and then use your poinsettia and other things you found inside. You could fill it with pinecones and flowers from outside too.
Looking for more easy Christmas decor ideas that are cheap and easy??
It's fun to create Christmas decorations, we have created ornaments too like this one with cinnamon sticks and pipe cleaners with items found there as well as items for a baby shower too!
For more crafts, recipes and tips sign up for my free newsletter and follow me on Pinterest.