Cute brownie cups and brownie bites filled with marshmallow and easy to make in a cake pop pan. Fun frosting recipe too that can be put on top.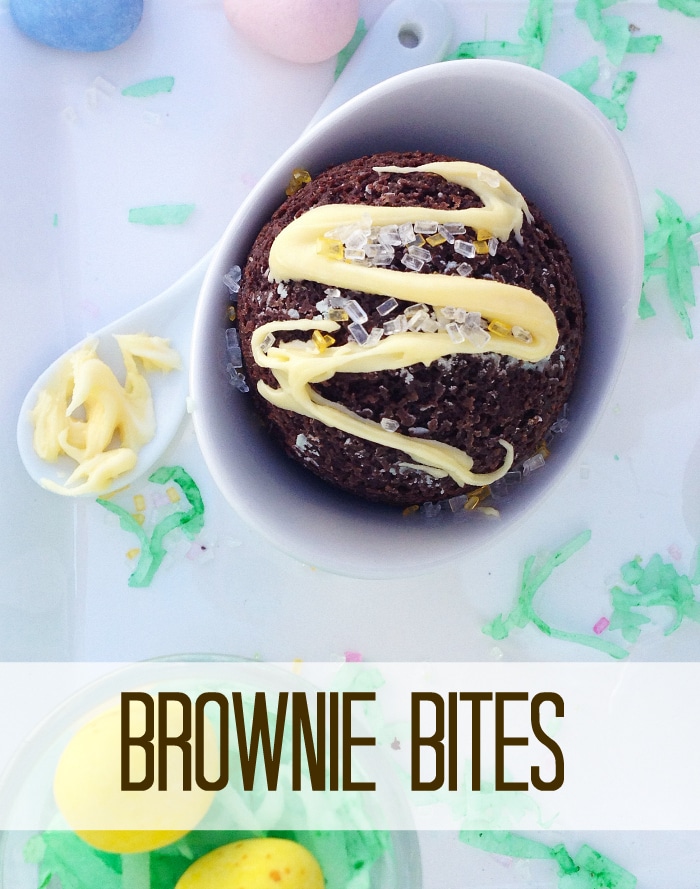 If I can make anything bit sized or the size of a muffin cup or so I will. There is just something about a dessert served in a mini form that just makes it a hundred times cuter than if it were made in a big pan! Take a look at these brownie cups that are individually sized so no cutting is involved when it's time to eat the goodness! Here's the recipe for brownie cups / bites, and of course you can adapt it to any season but we gave ours an Easter twist.
If you follow my blog at all you know I don't do a lot from scratch when it comes to baking….I'm all about easy!!
It's all about the presentation when it comes to food and especially when it comes to desserts! So first you are going to start with a box of your favorite brownie mix, then we will go from there. The grass is actually colored coconut and there is a marshmallow filling inside these bit sized brownie bites, so that makes this dessert really fun.
You will need the following items:
1 bag marshmallows
1 box brownie mix
Coconut
Yellow and green food coloring (your choice0
Once you have your batter you will fill each cake pop halfway with brownie mixture & insert 1 marshmallow in center. Continue to pour more brownie mixture over the marshmallow and top each ball off. Bake for approximately 18 minutes. Remove from heat and let cool for 1 hour.
Chocolate Drizzle
Add white chocolate to mason jar or small microwavable bowl. Microwave for 1 minute. Remove and stir. Microwave another 30 seconds. Remove and stir. Add 1 to
2 drops of yellow food coloring (depending on your desired level of color). Stir well or until the color has been distributed evenly. Drizzle white chocolate onto brownie ball bites. Let sit for 15 minutes.
Coconut
Add coconut to medium size container with lid. Add green food coloring. Close lid and shake vigorously or until color is evenly distributed. Set coconut grass in a serving dish of your choosing. Place marshmallow brownie ball bites atop coconut. Add Cadberry milk chocolate mini eggs for decoration. Serve and enjoy during your Easter celebration.
For more easy recipes and crafts please LIKE The Typical Mom on Facebook, sign up for my newsletter, and follow me on Pinterest!