BLT Grilled Cheese is the perfect fun lunch idea for kids and adults! Pack it full of veggies, bacon and tons of cheese for a bite full of heaven.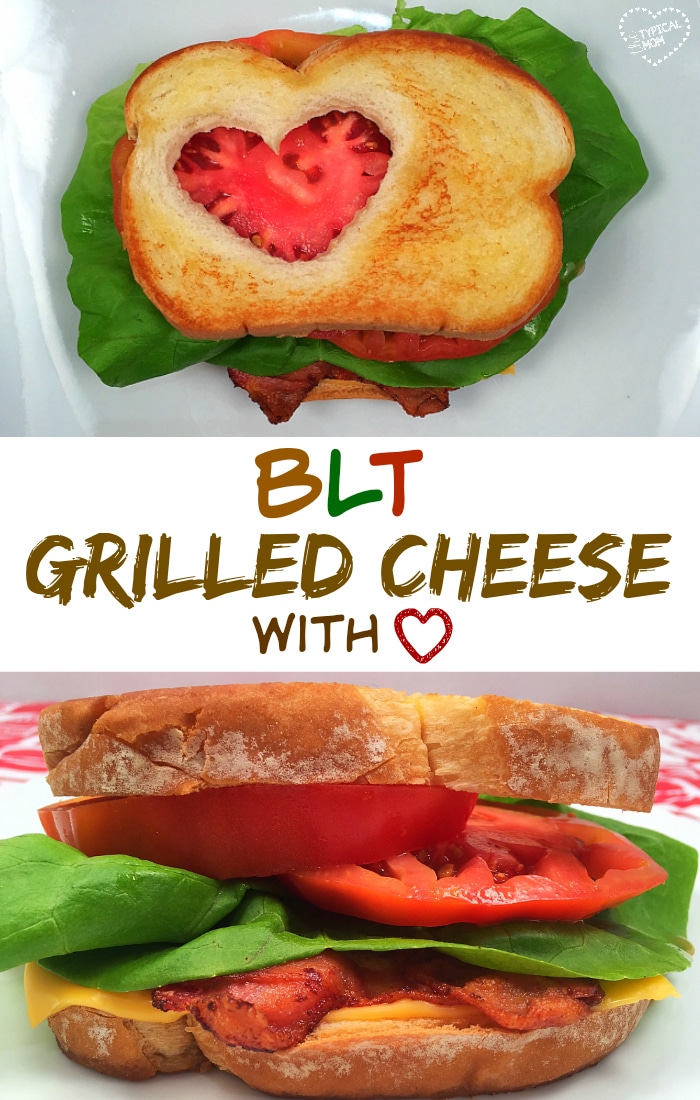 Tell me you've had more grilled cheese sandwiches in your life than you could possibly count! Have you ever mixed it up a bit and brought your traditional grilled cheese to the next level….like making it a BLT grilled cheese maybe?? This is such a good twist!! To celebrate National Grilled Cheese Sandwich Day (yes there is such a thing) on April 12th I thought I'd bring the ordinary into extraordinary and share it with you. Special thanks goes out to Sara Lee® Artesano™ Bread for sponsoring this post so I could make you want to run out and grab these ingredients yourself. 😉
Doesn't this look incredible….and an added cuteness for the kiddos of course. 😉 It took quite a while and some persistence on my part to get my kids to truly love vegetables, but believe me when I say that they'd rather eat them over meat some nights now. This is one way to make veggies more "fun" for kids, and and a great way to jazz up a traditional grilled cheese sandwich too. It's amazing!!
Ok to start with you will need some bacon. It's easier to get the bacon pieces cooking while you're preparing the other items to save time. Cut your package of bacon in half, then take out 4 cut pieces and lace them together in your pan before turing your burner on. I must mention that in order for this to turn out right you also need a dented and scratched pan like this one that you probably got as a wedding present too or forget it…..totally kidding, but tell me you don't have one like this at home too. 😉
Now get out some thick, soft Sara Lee® Artesano™ Bread….the perfect "canvas" for your creation. The bread really is the focal point to any grilled cheese sandwich and makes all the difference, this one crisps nicely on the outside while staying really soft on the inside….can you taste it yet?? This BLT grilled cheese is really going to be packed FULL of goodies so you need 2 slices that can really withstand the weight of all this goodness.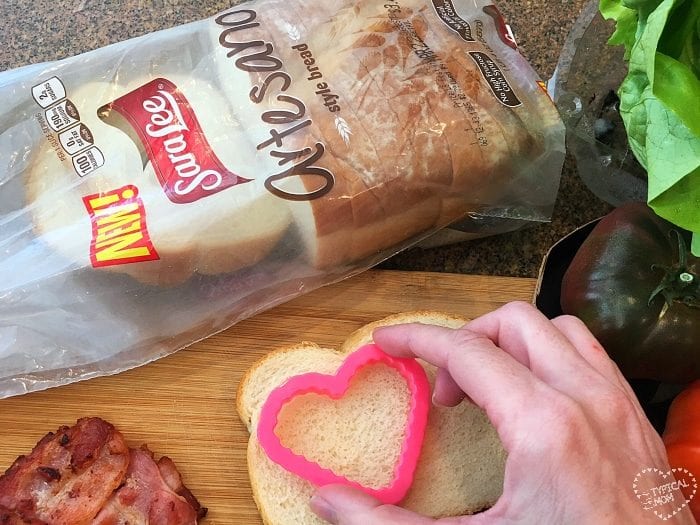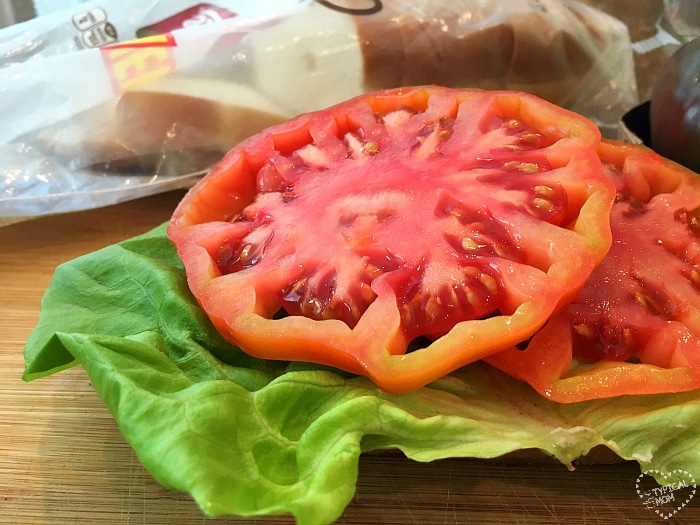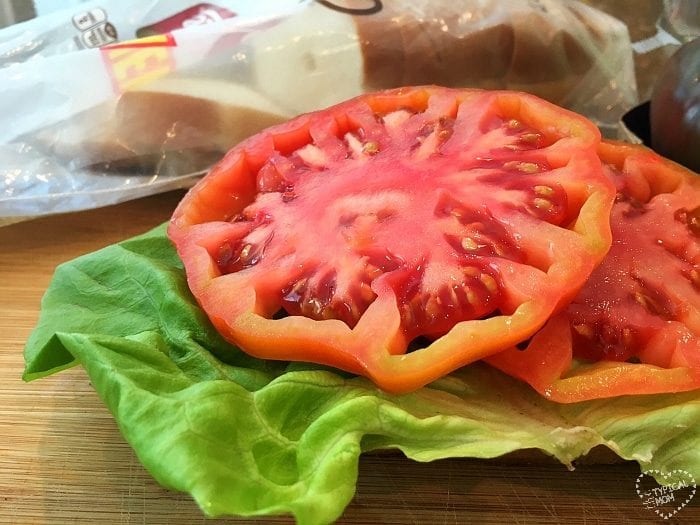 Before you butter and put your 2 slices of bread into your pan to get them nice and crisp and melt your cheese you might want to make it a little more fun (especially if you have kids) by just using a heart cookie cutter on 1 slice. Then just butter both pieces and on the slice without the heart cut out put your slices of cheese (we use AT LEAST 2 pieces per sandwich) and your bacon on top of that. Do NOT put the sandwich together in your pan, just wait until the cheese is melted and your bread is browned and then transfer your 2 slices on to your plate or cutting board. NOW add your piece of lettuce and tomato slices on top of that (you don't want them warm or soggy).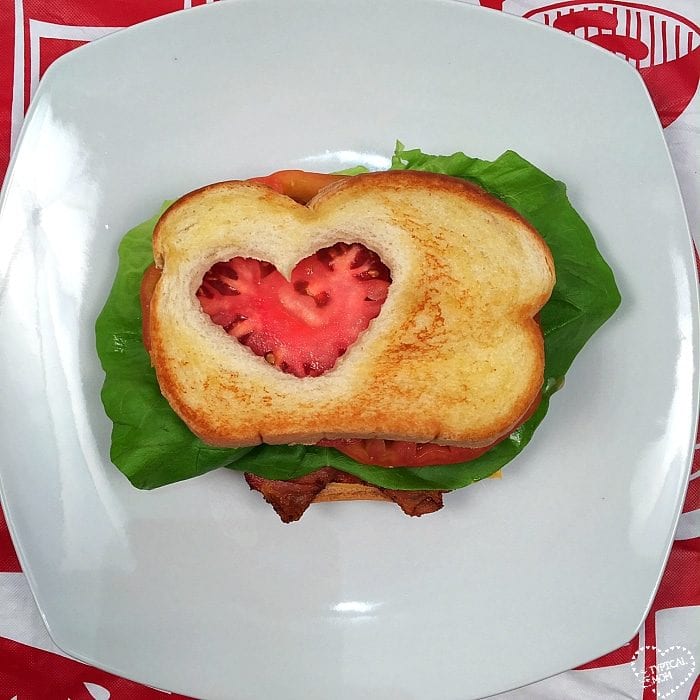 Now that's a FUN and grilled cheese that's been kicked up a notch! You can add a bit of mayo underneath the heart bread if you like, but honestly with the juiciness of the tomatoes you really don't even need it. You can grab a loaf at your local Walmart along with all the other items you will need, it will be on rollback now until 7/13 too! While you're there grab an extra loaf and make this banana bread pudding recipe with your other loaf….you can thank me later.
This is a sponsored post written by me on behalf of Sara Lee® Artesano™ Bread.