Summer is approaching and although we always take a trip we usually spend a lot of time locally or just in the backyard having fun. Here are some of the best summer toys we love each year and think you and your family will get a kick out of them too! Affiliate links are present for products in order to maintain our site and fuel Mom with lots of coffee!! (images via. amazon.com)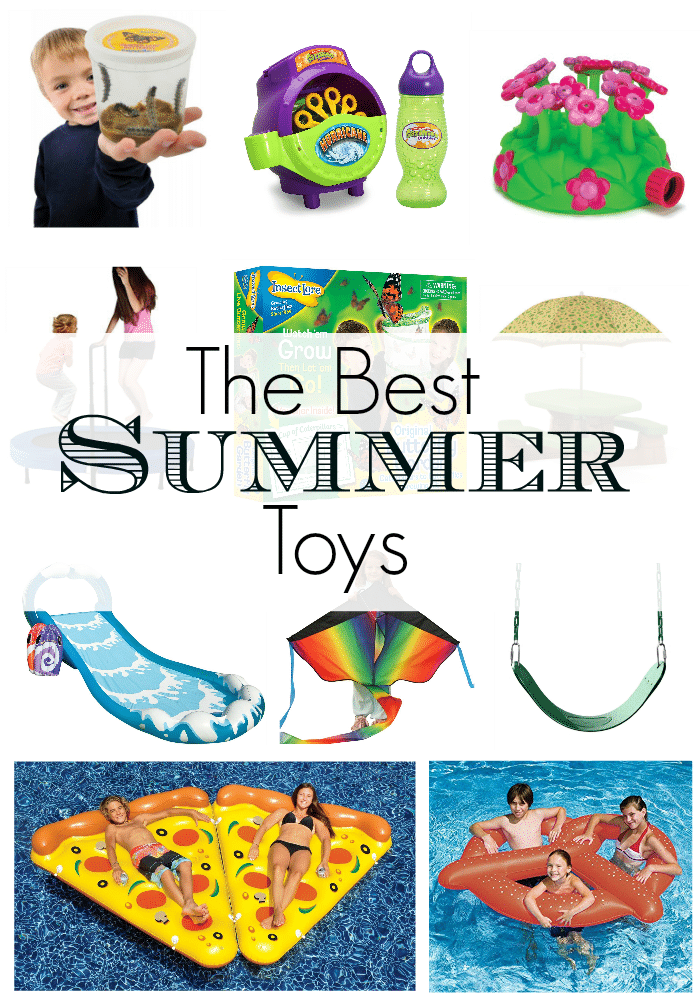 We love having staycations during the summer, meaning we come up with different activities we can do right at home that don't cost a lot of money. Kids need to stay busy but there are many inexpensive fun toys that keep them active at home that we love and want to share with you.
Surf N Slide Play Center – great for all ages and perfect for any sized backyard.
Giant Inflatable Pizza – perfect for adults and kids and a fun shape.
Giant Inflatable Pretzel – perfect inner tube like toy for the pool, great for kids and their friends.
Melissa & Doug Sprinkler – perfect for little kids with no hard pieces if they land on it.
Gazillion Bubble Hurricane Machine – who doesn't love a gazillion bubbles!
Mega water balloon filler, fills 100 in 60 seconds – easy way to fill hundreds in just minutes.
A Swing – the cheapest and longest lasting "old fashioned" toys.
Butterfly Garden and live caterpillars – if you've never ordered this it is a MUST and amazing to watch even for adults.
Twin Trampoline – SO fun.
HUGE Rainbow Kite – try a kite if your child has never seen one, fun.
Step2 Naturally Playful Table & Umbrella – great for little ones, our lasted years and years.
If you're preparing for summer there are a lot of things like these things here that are inexpensive and provide hours worth of fun at home! Here is a list of 10 other things that cost under $10 you can do with your kids too!
For more easy recipes, tips and crafts please LIKE The Typical Mom on Facebook and follow me on Pinterest! You can also sign up for my free weekly newsletter which is packed with goodies I know you'll love. 😉